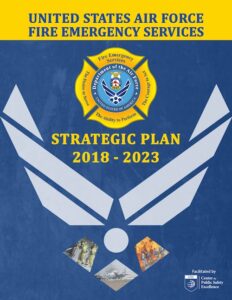 TYNDALL AIR FORCE BASE, Fla. — Fire service professionals throughout the Air Force recently met and ensured the creation of the Air Force's Fire Emergency Services 5-year strategic plan.
NOTE: This article is a reprint from U.S. Air Force Civil Engineer Center website.
Center for Public Safety Excellence personnel facilitated and led a week-long stakeholder meeting and workshop in mid-February at Tyndall Air Force Base, Florida. The theme of the collaboration—which combined nearly three centuries of knowledge and expertise from those who attended—was "mapping the road to excellence" and the goal of establishing a strategic plan for FES was accomplished.
"It was a pleasure to work with Air Force FES senior leaders on this process", said Ernst Piercy, CFO and Senior Technical Advisor, CPSE. Piercy is also a retired fire chief. "I started my Air Force fire service career at Tyndall AFB in 1978, and to come back and contribute to the development of this strategic plan was an absolute honor. I feel confident that the future of the career field is in competent hands, and look forward to seeing the results of the implementation of this plan."
A team of 12 fire service experts from organizations including the Air Force Civil Engineer Center, AFIMSC Detachment 9, and base fire chiefs from Tinker, JBER, Little Rock, Maxwell, and Tyndall all had major contributions on developing goals and identifying objectives to ensure efficiency within FES for years to come.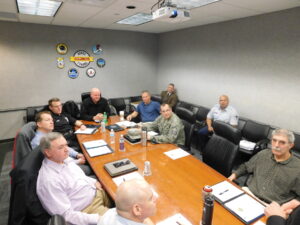 "The purpose of creating the plan using the input of this particular combination of professionals made up mostly of installation fire chiefs is, these are the folks that deal with the issues and will be executing these plans on a daily basis" said Kevin Matlock, FES Program Manager, Readiness Directorate, AFCEC. "We feel extremely good about the content of this 'strat plan' given what we face right now and expect in the near future. But this is a living, breathing document; if something comes along that requires change, we can still modify it as needed."
One of the main objectives of this stakeholder meeting and workshop was to identify six strategic goals:
• Develop a risk-based training program to meet specific installation needs by February, 2022
• Increase communication effectiveness throughout AF FES and key stakeholders in an ongoing timeframe
• Leverage technology to improve AF FES capabilities by February, 2023
• Strengthen the FES human capital programs to meet the needs of modern-day professionals by August, 2021
• Enhance the health and safety culture within AF FES by February, 2012
• Foster a culture of continuous improvement to make AF FES the pacesetter in emergency services by August, 2020
The facilitating organization—CPSE—is a not-for-profit 501(c) (3) corporation. It is an international technical organization that works with the most progressive fire and emergency service agencies and most active fire professionals. The corporation's mission is to lead the fire and emergency service to excellence through the continuous quality improvement process of accreditation, credentialing, and education.
"It was an honor to work with the Air Force Civil Engineer Center, Fire Emergency Services facilitating development of their stakeholder-driven strategic plan" said Preet Bassi, CEO, CPSE. "We benefit greatly from DoD participation on our accreditation and credentialing commissions. CPSE's Technical Advisor Program collected input from 185 FES stakeholders and collated it for review by senior Air Force fire officials, working with these senior officials to develop a five-year strategic plan with six primary goals and enabling objectives. Of the over 125 strategic plans TAP has facilitated, some at DoD FES locations, this is the first that will be implemented throughout a service branch. We look forward to seeing the finished outcomes."
The final 30-page document will be available through CAC-enabled Sharepoint site when complete. For more information about the FES Strategic Plan, contact the Reachback Center at (850) 283-6995 or DSN 523-6995.