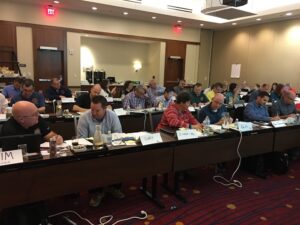 For an agency considering accreditation or an officer contemplating credentialing, a local consortium may be their first contact with CPSE. Wanting to ensure our consortiums are operating effectively and feel supported, we brought the coordinators (and co-coordinators) of the 15 state and regional consortiums to the DC metro for a day and half workshop this week.
Some consortiums predate the official formation of CPSE (in 2006) while others have emerged onto the scene in the last few years. All consortiums, along with their primary/secondary contacts, and the regions they serve are listed on the CPSE website.
Consortium engagement and development was identified as a key opportunity during the development of CPSE's recent strategic plan. The CPSE Board enthusiastically supported the idea and funding for the workshop as the latest in a series of efforts for greater consortium engagement.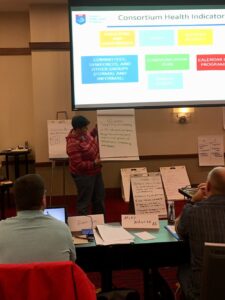 We see our consortiums as our partners in achieving our mission to lead the fire and emergency service to excellence. We further see these great groups as a networking clearinghouse for accreditation and credentialing, a geographically-focused avenue for sharing and receiving information, a pipeline for volunteers and volunteer leaders, and a key component to CPSE's success, sustainability, and growth.
Over the day and a half, the coordinators learned how to develop/improve their consortium's mission and goals, member recruitment and retention efforts, communication strategies, and meeting planning and execution processes. A select group of attendees participated in two panels: Best Practices in Consortium Effectiveness and Consortium Management. Top Progressive Reloading Presses: Are you finding the Best Progressive Reloading Press to start making your limitless stash? Perhaps you are an avid shooter and practices gun firing almost every day. That kind of hobby requires lots of ammo and a significant amount of money in the long run. But with today's technology, you can now make your very own ammunition right inside your home! This process is called reloading. Professional hunters and shooters make it their little hobby on the side, and you can save money in the long run, too. Visit Rotorm.com for more info!
The work of the consortiums, and the positive outcome of the workshop, wouldn't have been possible without the dedication and time volunteered by the coordinators. Thank you!!
Arizona – Kevin Spirlong (City of Surprise Fire-Medical Department) and Mike Walton (City of Yuma Fire Department)
California – Alan Long (Anaheim Fire Rescue Department)
Canada – Dawn Dixon (Edmonton Fire Rescue Services) and Karran Stefanyk (Red Deer Emergency Services)
Florida – Corey Bowles (Ocoee Fire Department) and Jim White (City of Winter Park Fire Rescue)
Georgia – Fred Cephas (Gwinnett County Fire and Emergency Services) and April Draper (Covington Fire Department)
Great Lakes – Chris Collins (Hanover Park Fire Department) and Mark Puknaitis (Naperville Fire Department)
Heart of America – Mike Hall (Olathe Fire Department) and Don Tinsley (Lenexa, Kansas Fire Department)
Iowa – Matt Sonnenburg (West Des Moines Fire Department)
Michigan-Ohio-Indiana – Brad Brown (Grand Rapids Fire Department) and Dave Dauer (Toledo Fire and Rescue Department)
North Carolina – Cindy Bonham (Charlotte Fire Department) and Keith McGee (Town of Apex Fire Department)
Rocky Mountain – Steve Dubay (Colorado Springs Fire Department) and Jen Sliemers (Arvada Fire Protection District)
South Carolina – Stephanie Julazadeh (North Charleston Fire Department)
Tennessee – Brian Goss (Brentwood Fire and Rescue Department)
Texas – Leonard Chan (Cedar Park Fire Department) and Randy Parr (Tomball Fire Department)
Virginia – Robert Lee (Newport News Fire Department) and Amy Valdez (Virginia Beach Fire Department)