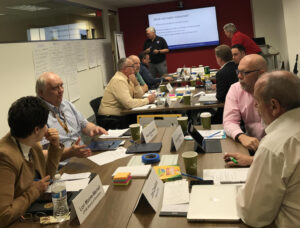 CPSE leadership invited representatives of key stakeholder groups to share their ideas on the future of the fire service, accreditation, and the CFAI 10th Edition Model. The gathering was hosted by CPSE at their headquarters in Chantilly, VA on Nov. 14, 2018. The stakeholders represented the interests and insights of their member organizations, and provided valuable input as the 10th Edition process begins (please visit www.cpse.org/cfai10 for more information).
Meeting participants included:
Brad Bain, ISO
Tom Breyer, IAFF
Ricky Brockman, Department of Defense
Richard Carrizzo, CFO, IAFC (Chief, Southern Platte Fire Protection District)
Jim Crawford, The Vision 20/20 Project
Steve Dirksen, CFO, CFAI Commissioner (Chief, Fargo Fire Department)
Ken Holland, CFAI Commissioner (NFPA)
Rick Mason, CFO, NFFF
Lori Moore-Merrell, CPSE Board (IAFF)
Rick Patrick, US Fire Administration (FEMA)
Greg Rogers, CFO, FM, CPC Commissioner (Fire Marshal, Spokane Valley Fire Department)
"Engaging our key stakeholders early in the process and allowing them ownership in the update will be crucial to the project's success," said Preet Bassi, CPSE CEO, who facilitated the meeting. "We received valuable input from all who participated and found a great deal of consensus." CPSE plans to share the outputs from the meeting in a forthcoming report.
The discussion included topics such as:
An overview of the accreditation model and process
A SWOT (Strengths, Weaknesses, Opportunities and Threats) exercise on the current CFAI model
A discussion on challenges faced by each organization's constituents and their communities
Predictions on future fire service trends
Top priorities for the 10th Edition CFAI Model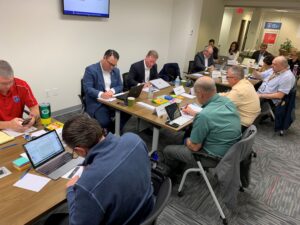 Karl Ristow, CFO, CFAI Program Director, pointed out that the CFAI Model is truly about continuous quality improvement for fire and emergency services agencies. While many think of accreditation as a project with a beginning and end, Ristow emphasizes that "the beauty is going from a self-assessment to building ongoing review and improvement into the DNA of a fire department."
In closing the meeting, Dr. Lori Moore-Merrell, Assistant to the General President of IAFF, speaking on behalf of the CPSE Board of Directors, shared that she was pleased with the group's brainstorming, input, and ideas and felt they would be invaluable to CPSE achieving its mission of "leading the fire and emergency service to excellence."
Next steps in the 10th Edition update will be the call for volunteers to review the previous edition and make recommendations.
Stay up to date with the latest news and progress on this initiative by checking the CPSE website and watching for social media posts on Facebook and Twitter with the hashtag #CFAI10.