The 21st century fire service is faced with unprecedented challenges that warrant unprecedented leadership so that organizations can accomplish their missions. These challenges include, but are not limited to, operational budget reductions, multi-jurisdictional consolidations, staff reductions, professional development, resource reductions, scarce capital improvement funding, and the average years of total service being noticeably lower today when compared to just 15 years ago.  Although these challenges may initially seem to be intimidating, as a profession, when we properly prepare ourselves, poor performance can be averted. The success of any fire department is contingent upon the organization's ability to proactively address problems before they become a crisis. This is applicable to both emergency and non-emergency responses.  If you ask ten executive fire officers what it means to be "properly prepared," you would get multiple different answers. Simply put, "Proper Preparation Prevents Poor Performance."  
As we confront the challenges and issues of the 21st century fire service, ensuring that a comprehensive succession plan is in place is critically important.  Having a succession plan that is coupled with the organization's strategic plan and professional development program correlates goals, objectives, and tasks with organizational statements. I do not use the term "Officer Development Program" because it leaves out all members of the team who are not ranking officers. Firefighters, civilians, and, drivers, etc. should all be participating in a professional development program. When a professional development program, succession plan and strategic plan are synergized, true "Tri-Advancement Planning," a term that I created and have lectured about to international audiences for over a decade now, occurs. The organizational statements which are the vision, values, and mission statements, respectively, should be foundational to every initiative proposed within the department. The succession planning process should occur for every rank and position within the department. I say "succession planning process" instead of "succession plan" because some overlook that success is obtained from going through a process and not just checking a box.  Succession planning should occur in both Operations and Support Services Divisions. From Firefighter up to Fire Chief and Shop Technician to Fire Marshal, ensuring that succession planning and professional development is occurring is the only way to ensure sustainable success.
One first step in developing an organizational succession plan is to establish a robust coaching/mentoring program. This coaching/mentoring program should be formal; however, at the minimum, it should acknowledge that informal mentoring is happening in the work place on a daily basis.  Next, regular reviews of the progress being made between the protégé and mentor should be conducted by an assigned person to gauge the effectiveness of the relationship.  Adjustments can be made accordingly that include revising goals and objectives, if necessary.  A reliable blueprint to properly document knowledge, skills, abilities and goals is an "Individual Development Plan (IDP)"  that should include:
Individual Development Plan (IDP)

Current Role

Name, Division, Position Title and Rank
Developmental goals for current job
Competency (knowledge, skills, ability)
Developmental activity (on-the-job training, education, or classroom training)
Outcome desired
Intended completion date and cost

Individual Development Plan (IDP)

Short-Term Goals

Name, Division, Position Title and Rank
Short-term goals (1-2 years)
Knowledge, skills and ability to develop
Outcome desired
Intended completion date and cost

Individual Development Plan (IDP)

Long-Term Goals

Name, Division, Position Title and Rank
Long-term goals (3-5 years)
Knowledge, skills and ability to develop
Outcome desired
Intended completion date and cost
When an IDP is created in conjunction with a formal mentoring program, the protégé has explicit direction and an established mentor to consult with as needed. During scheduled mentor/protégé meetings, the progress being made in accomplishing the identified goals should be discussed.  Also, any roadblocks, challenges, delays, and general problems should also be discussed during the scheduled meeting.  Lastly, it is important to celebrate small wins and successes as well. Often times, we tend to focus on just the negative and forget about the power of positive reinforcement and the impact that it has on desired outcomes.
So, how do we reach our desired outcomes? In the IDP, we have discussed establishing goals as well as knowledge, skills, and abilities (KSAs).  One reliable way to enhance KSAs is through a professional development program.  Some organizations have professional development programs that are tied to the promotional process while other programs are in place to assist members with identifying which fire service classes to take as well as collegiate classes for higher education.  Some organizations utilize the Fire & Emergency Services Higher Education (FESHE) initiative to standardize training, education, experience, and certification activities as well as use it as a general professional development roadmap. Although there is no one right answer on what a proper professional development program should consist of, below is an example of what classes could be included in a program:
Series I
FIREFIGHTER & PUMP OPERATOR / AERIAL OPERATOR:
Fire behavior, reading smoke, and interior fire suppression (offensive & transitional attack) classes
Specialty classes (i.e.: hazardous materials technician, rescue technician, elevator rescue technician, etc.)
Pump/Operator and/or Aerial Operator (NFPA 1002)
Fire Officer I (NFPA 1021)
Fire Instructor I (NFPA 1041)
Fire Inspector I (NFPA 1031)
Nationally Registered EMT or Paramedic (depending on jurisdictional requirements)
Team building training
NIMS 100, 200, 700, & 800
Working towards Associate's degree
Series II
LIEUTENANT:
Complete Associate's degree
Fire Officer II (NFPA 1021)
Fire Instructor II (NFPA 1041)
Haz-Mat Incident Command
NIMS 300 & 400
Conflict resolution
Emotional intelligence
Diversity & Inclusion
Working towards Bachelor's Degree
Fire Officer Designation (Center for Public Safety Excellence, Inc.)
Series III
CAPTAIN:
Fire Officer III (NFPA 1021)
IMS (Multi-jurisdictional response/mutual aid training)
Emergency Operations Center
Servant leadership
Transformational leadership
Managing Diversity & Inclusion initiatives
Conflict resolution
Incident Management Team (IMT)
Managing Officer program (NFA)
Series IV
BATTALION/DIVISION CHIEF:
Fire Officer IV (NFPA 1021)
Complete Bachelor's degree
Executive Fire Officer program (NFA)
Chief Fire Officer Designation (Center for Public Safety Excellence, Inc.)
Start Graduate degree
Conflict resolution
Team building
Creating diversity & inclusion programs
Computer simulation lab
Series V
2nd IN COMMAND & FIRE CHIEF:
Complete Graduate degree
Implementing diversity & inclusion programs
Team building
Conflict resolution
Budget management
Capital improvement program management
Computer simulation lab
Workforce management
Workers compensation/labor law
Keeping in mind the 5Ps that were previously mentioned, "Proper Preparation Prevents Poor Performance," the objective of professional development is to prepare members of the fire department for the next rank PRIOR to being promoted. That is why in "Series I" of the professional development program example above, a Firefighter is pursuing and or being trained in disciplines that a Lieutenant must have. The rationale is that if a member of a department is required to execute duties and responsibilities of a specific role with a specific title, in this case, that of a Lieutenant, why is it not required nor the expectation that they be proficient in all of the job performance requirements on their first day in their new role? Through mentoring and obtaining certification classes, higher education and soft skill training, then duty efficiency and effectiveness is maximized.
A succession planning matrix assists with identifying all of the following: critical positions, when said positions are expected to become vacant, the priority of the position, and if a successor is secured. Let's take a deeper look at the succession plan matrix and imperatives that are included in it: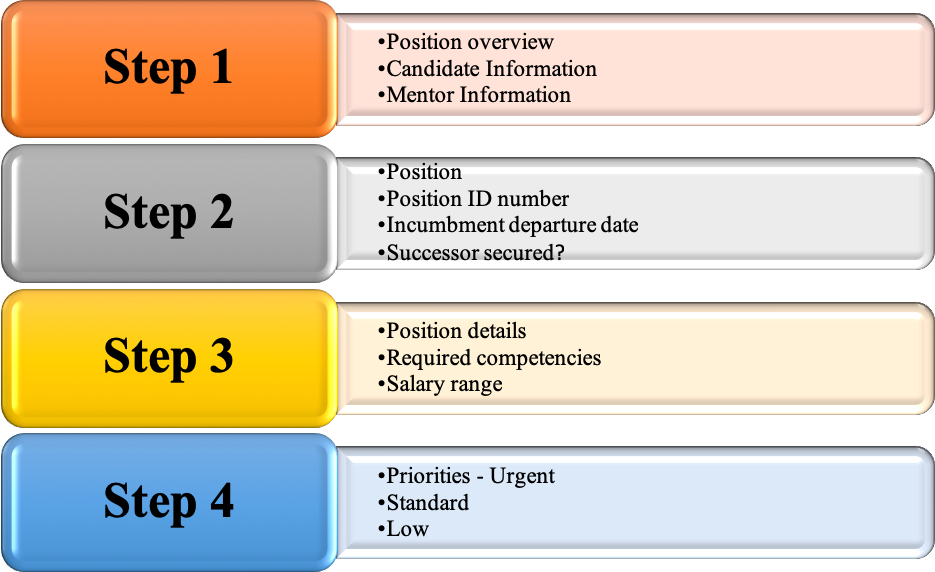 As a profession, we work extremely hard within our respective organizations to respond in a professional manner when someone is in need. That is done at the macro-level of job execution; but how good are we at being proactive at the individual micro-level of the organization?  Although pursuing and obtaining credentials and accreditation through the Center for Public Safety Excellence, Inc. have been the hallmark of excellence on an individual (micro) and organizational (macro) level for years, what is the purpose of obtaining excellence if it cannot be sustained?  The pursuit of excellence should be identified as the cultural expectation by the organization. It is all of our duty to reach out, reach back, and reach down to fellow fire service professionals in efforts to implement sustainable success. Besides, there is no success without a successor. From the rank of firefighter up to the rank of fire chief.
---
Reginald D. Freeman is the 37th Fire Chief/Emergency Management Director for the City of Hartford. Prior to the City of Hartford, Chief Freeman served as the international Fire Chief for Lockheed Martin and served as a civilian Fire Chief in Iraq for the U.S. Department of Defense from 2004-2008. Chief Freeman's educational accomplishments include a Bachelor of Arts in Leadership from Bellevue University in Bellevue, NE. He earned his Master's Degree in Executive Fire Service Leadership from Grand Canyon University in Phoenix, AZ and he is currently pursuing his Doctorates in Organizational Leadership with an emphasis in Organizational Development. Chief Freeman is also a graduate and Fellow of Harvard University's Senior Executives for State & Local Government program at the Kennedy School of Government. Chief Freeman previously served as the Chair of the Industrial Fire & Life Safety Section for the International Association of Fire Chiefs (IAFC) and a previous Board member of the Executive Fire Officer Section of the IAFC and Technical Committee member of NFPA 1021 (Fire Officer Professional Qualifications). Additionally, Chief Freeman serves as the Chairman for the Commission on Professional Credentialing via the Center for Public Safety Excellence, Inc. and is also the Director of Training for the Caribbean Association of Fire Chiefs. Chief Freeman is a credentialed Chief Fire Officer (CFO) through the Center for Public Safety Excellence, Inc. as well as a credentialed "Fellow" with the Institution of Fire Engineers, USA Branch. Lastly, Chief Freeman serves on the Board of Directors for NFPA. Chief Freeman is an Adjunct Professor for Anna Maria College and the University of Florida where he lectures in both undergraduate and graduate Fire Science and Master of Public Administration programs.