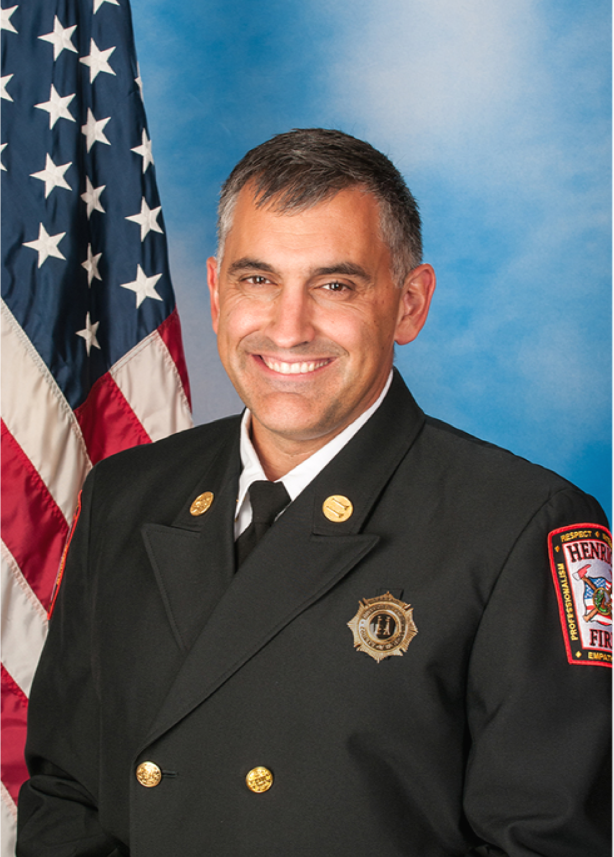 Captain, Henrico County Division of Fire
For decades, fire service agencies across the United States focused on fire prevention as a primary measure to reduce death and injury in the community. Through a blanket approach, we all provided education and resources to the residential community and code enforcement to businesses.  However, there was a fundamental lack of risk identification, risk prioritization, and risk-based resource deployments to the community.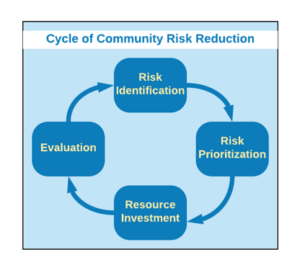 This strategic risk-based approach is the foundation of Community Risk Reduction (CRR).  In and around 2008, a change began to spread throughout the fire service industry.  The transformation centered around a cycle of risk identification, prioritization, resource investment, and evaluation. This cycle became the foundation for Community Risk Reduction and a national movement within our industry.
One of the most noticeable differences between traditional fire prevention and CRR is that our old school methods exhibited an absence of data-informed risk identification.  In the CRR model of activity, the risk of a specific community (or specific community demographic) is identified and prioritized through a comprehensive assessment. Reliable data is collected, and specific risks are identified and defined.
Raging structure fire risk may not always be our highest priority… who would have thought?   The data will likely show the risk of cardiac arrest, falls, or drownings may rank higher, and resources can be deployed accordingly.  For those of us still looking for fire risk, we may find a specific community with late-night kitchen fires prompting the deployment of education and stovetop fire-stop devices.
Having that comprehensive understanding of the community is difficult to achieve fully.  The difficulty is overshadowed, however, by the side effects that accompany Community Risk Reduction activities.  We all understand the impacts and measured outcomes within our communities, but rarely do we discuss what happens inside our departments.
Side Effects of CRR
Organizational Self-Assessment
Workload Reduction
Increased Efficiency
Partnerships
Fully implementing Community Risk Reduction within an organization provides an array of benefits on top of reducing risk in the community.  The model of risk assessment, prioritization, and evaluation allows the organization to grow in many areas.
Side Effect #1: Organizational Self-Assessment
To achieve reliable outcomes from a model-based program, an organization must understand the resources, current programs, support structure, and strategic direction.  The model of Community Risk Reduction pushes organizations into self-assessment as plans are made for service delivery, deployment, and evaluation. Self-assessment in the traditional fire service is a scary endeavor for many.  As an industry, we must open the doors and brush away the cobwebs before we can begin to make real progress.
We must first understand who we are, what we can offer under our current models, and where we can go in the future.  Self-assessment allows our organizations to identify areas for continuous improvement only after fully understanding who we are and what we do.  Embracing the Community Risk Reduction model opens the doors for comprehensive self-assessment.
Side Effect #2: Workload Reduction
Model-based programs are focused.  For example, instead of providing a county-wide fall prevention program, specific communities or locations are identified through reliable data for resource deployment.  The risk of falls is decreased by applying resources to a specific population, community, or area and reducing the workload.  Additionally, we didn't have to work as hard to deliver the program, and we may achieve higher measurable outcomes.
In a recent example, the Henrico Smoke Alarm Initiative installed more than 1,500 alarms in twelve months using a risk-based deployment method.  Rather than having hundreds of operational staff knocking on doors, the program used two light-duty staff members, and more smoke alarms were installed in 2017 under this program than in the previous seven years combined.  As a bonus, our risk assessment is 91% reliable at identifying homes without a working alarm.
From the perspective of resource management, however, it is essential to remember that the fire department may not be the most appropriate program delivery mechanism.  Because of our nature, we frequently try to be everything for everyone and become a territorial amoeba that consumes programs models within our reach.  Risk assessments streamline service delivery to reduce our workload, but we can take it a step farther.  Instead of deploying a new initiative with our limited resources, use the risk assessment to identify the most appropriate partner to influence community change.
Side Effect #3: Increased Efficiency
Because of the focused nature of programs developed under the Community Risk Reduction model, not only is workload decreased, but organizational efficiency is increased.  Using a risk assessment, the most impact can be delivered to the community with minimal effort.
As an example, a program in Henrico uses a risk assessment to deploy engine companies to conduct life safety inspections, complete pre-incident plans, and satisfy code enforcement needs… all at 12% of the workload of the antiquated engine company-based inspections program, it replaced.  Additionally, all target hazards will be pre-planned every 18-24 months district-wide.
What do elected officials like just as much as saving money?  They like government efficiency!  Community Risk Reduction not only drives efficiency within the fire department but also in the county or city as a whole.  The CRR model forces organizations to expand their minds, think outside the box, and look for ways to identify the most appropriate and efficient means for service delivery.
Side Effect #4: Partnerships
Everyone is familiar with a version of this:
"One hundred years of tradition unimpeded by progress."
For this discussion, I believe our industry is more characterized by:
"One hundred years of ideas unimpeded by outside perspectives."
Working within organizational silos is highly inefficient and prone to almost inevitable failure. One of the critical components in the Community Risk Reduction model that is rarely discussed is partnerships.  CRR partnerships are about finding the right people to sit together at the right table to make a recipe for success.  By providing an environment for your department to work directly with other internal and external agencies, it creates ownership and pride in the outcomes.
Partnerships also contribute to increased government efficiency by eliminating government waste and duplication of services.  When a fire department opens its doors to partnering agencies, they expose opportunities for consolidation.  What the local health department is doing in one at-risk neighborhood may be impactful to the fire department.  By establishing open communication, the fire department may provide a risk assessment that identifies an associated risk the health department can mitigate in the same community, thus solving two agencies' problems with minimal resources.
With our ever-increasing access to technology and data, the fire service continues to take giant steps forward in generating community outcomes under the CRR model.  Policy-makers and community leaders alike will seek out the measurable outcomes they expect from these Community Risk Reduction activities.  For departmental leadership, however, we get to double-dip and recognize the parallel internal benefits of CRR.  Increased efficiency, decreased workload, fostered partnerships, and self-assessment all contribute to a better organizational experience.  That's a better organizational experience for our personnel, the greatest asset we have. яндекс
The Center for Public Safety Excellence and the Commission on Fire Accreditation International (CFAI) offer valuable tools and resources to help drive your agency toward feeling the side effects of Community Risk Reduction.  One of the primary pillars of the CFAI Accreditation Model is a comprehensive risk assessment.  Category 2 of the Fire and Emergency Service Self-Assessment Manual (FESSAM), Assessment & Planning, establishes the foundation for agencies to understand the community's needs, identify service gaps, begin to establish response standards to meet the needs, and create means for maintaining and improving service.  Category 2 draws many parallels with Community Risk Reduction.
Moving forward, I encourage you to further investigate not only Category 2 but the total self-assessment model of accreditation to see how you can improve upon your department's response to the community's needs.  Then, continue to take steps forward in identifying more risks, prioritizing, investing in resources and partnerships, and evaluating the impact of your risk reduction work.
For more information on Community Risk Reduction, I recommend visiting the Vision 20/20 Project's website at www.strategicfire.org.
---
Joe Powers is a 26-year veteran of the fire service and holds a Master's in Public Administration and a Bachelor's in Health Sciences and is a designated Fire Officer with the Commission on Professional Credentialing.  Both locally and internationally, Joe works with fire departments to improve operational response, reduce organizational workload, and tie data to strategic decision-making.  Joe is a CFAI Peer Assessor, CPSE University Instructor, and presents at conferences on topics such as CRR, strategic planning, and fire service data.  Joe lives outside of Richmond, Virginia and works for Henrico County Division of Fire, a metro-sized agency with 600 personnel.