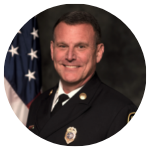 The Commission on Fire Accreditation International has appointed Chief Terry Ford, CFO, as its newest commissioner representing Department of Defense fire and emergency services. The CPSE Board unanimously approved his appointment.
Terry Ford is the Chief of the Fire and Emergency Services Division at Tinker Air Force Base in Oklahoma, a CFAI accredited agency. His fire service career began in 1982 and has included assignments at U.S. Air Force bases around the globe as well as Superintendent of the DoD Fire Academy. He was named chief at Tinker Air Force Base in 2005.
Chief Ford holds a bachelor's degree in Fire Science Management and a master's degree in Human Resource Management.
Chief Ford is a graduate of the National Fire Academy Executive Fire Office Program and earned his designation as Chief Fire Officer in 2002.
The Commission on Fire Accreditation International (CFAI) has 11 members that represent a cross-section of the fire and emergency service, including fire departments, city and county management, labor, standards development organizations, and the U.S. Department of Defense. CFAI holds public hearings at the CPSE Excellence Conference each spring and at the International Association of Fire Chief's Fire Rescue International Conference each summer to review agencies applying for accredited status.
Learn more about the individuals that graciously volunteer their time to overseeing accreditation.