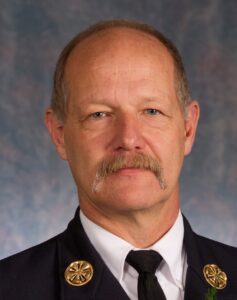 On August 5th, Richard A. Mason, CFO will join the CPSE team as Commission on Professional Credentialing (CPC) Program Manager.
Through April 2019, Rick worked with the National Fallen Firefighters Foundation coordinating their education and training programs. From 1996 to 2011, he served as the Director of the Division of Fire Standards and Training and Emergency Medical Services for the State of New Hampshire. Prior to that he worked in progressively senior roles, from firefighter to Deputy Chief, for fire departments in Portsmouth, Nashua, and Lebanon, New Hampshire.  Rick holds a Bachelor of Professional Studies degree in Public Safety Management from Granite State College and an Associate in Applied Science degree in Fire Protection from New Hampshire Technical College, Prescott Hill.
Rick is a familiar name to many in the CPSE community having served on CPC from 2003 to 2012 and as its chair from 2008 to 2011. Rick is among the inaugural class to receive the first-ever Chief Officer Designations in 2000 and was awarded the Ronny Jack Coleman Leadership Legacy Award in 2012.
In this role, Rick will be responsible for the daily operations of the Professional Credentialing program including providing guidance to all existing and potential program participations, providing leadership and support to volunteers, and organizing and implementing successful CPC meetings.
Reflecting on Rick's selection, CPSE Chief Executive Officer, Preet Bassi, CAE noted "Of the almost 40 candidates we considered, Rick's engaging personality, passion for the CPC process, and national achievements stood out from the beginning. As we moved through the recruitment process, Rick displayed superior analytical, communications, and customer service skills."
Rick succeeds Debbie Sobotka, recently promoted to CPSE's Chief Operating Officer, in overseeing the CPC program.  He will inherit a successfully running program which under Debbie's tenure, since 2004, has seen the establishment of four additional designations, a seven-fold increase of designated-officers from 301 to 2307, and customer service ratings regularly exceeding CPSE targets.
Following a brief on-boarding period, Rick will be connecting with all CPC commissioners, peer reviewers, designees, and other key members of the CPSE community.