Commission on Fire Accreditation International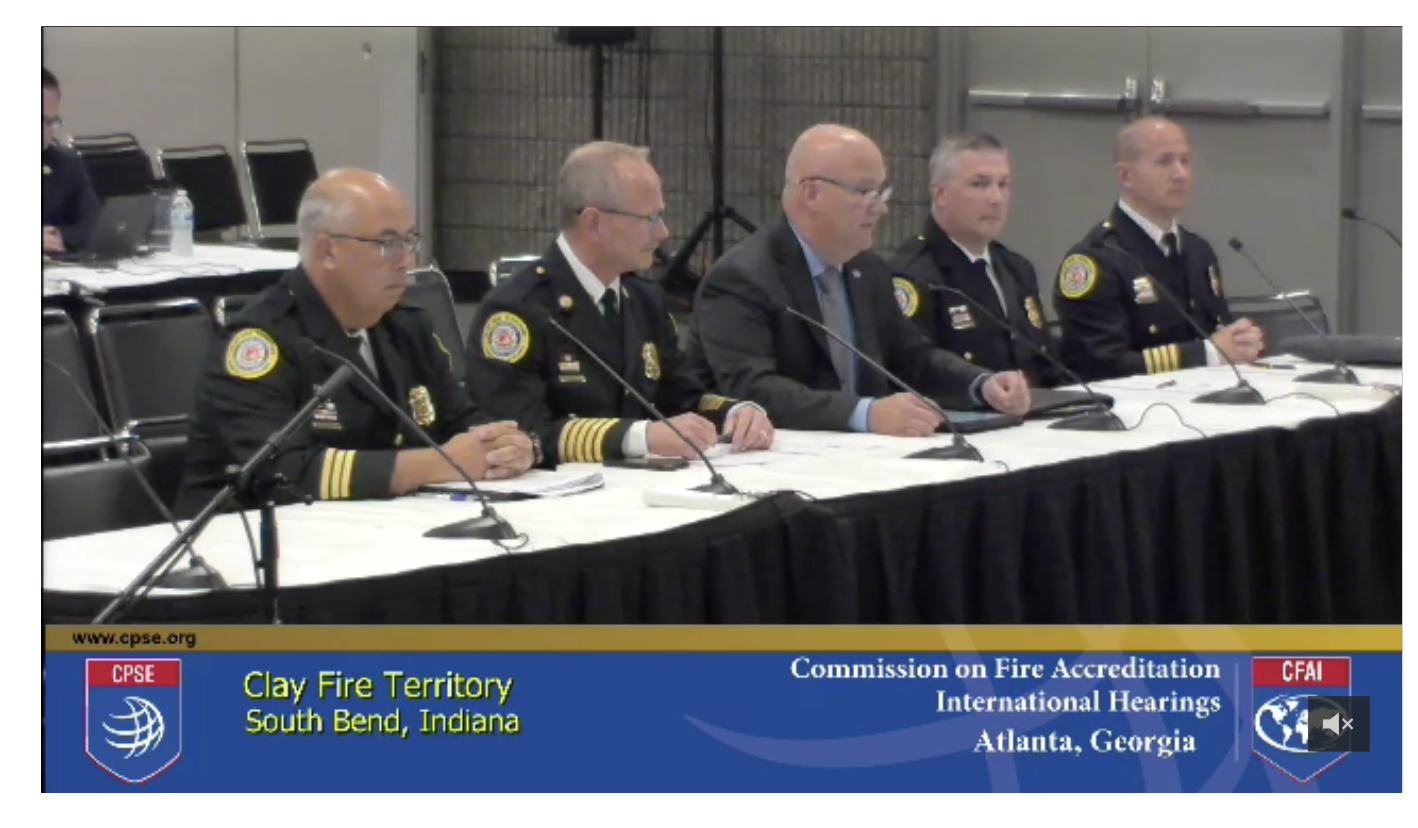 At the Commission on Fire Accreditation International (CFAI) hearings, 33 agencies appeared before the Commission, which were live-streamed, over three days. Twenty-four agencies were reaccredited, while nine were accredited for the first time. This brings the total number of accredited agencies around the globe to 270, and you can find the complete list on the CPSE website.
Accredited and Re-Accredited Agencies at FRI 2019
128th Fire Emergency Services, Milwaukee, Wisconsin
Adams County Fire Protection District, Denver, Colorado
Atlanta Fire Rescue Department, Atlanta, Georgia
Beale Fire & Emergency Services, Beale Air Force Base, California
Bowling Green Fire Division, Bowling Green, Ohio
Brentwood Fire & Rescue Department, Brentwood, Tennessee
Chandler Fire Department, Chandler, Arizona
City of Calgary Fire Department, Calgary, Alberta
City of Cedar Park Fire Department, Cedar Park, Texas
City of Henderson Fire Department, Henderson, Nevada
City of Maryville Fire Department, Maryville, Tennessee
City of Shelby Fire & Rescue, Shelby, North Carolina
Clay Fire Territory, South Bend, Indiana
Columbus Fire and Rescue, Columbus, Mississippi
Culver City Fire Department, Culver City, California
DLA Richmond, Fire & Emergency Services, Richmond, Virginia
Fort Leavenworth Fire and Emergency Services, Forth Leavenworth, Kansas
Gilbert Fire and Rescue, Gilbert, Arizona
Hartford Fire Department, Hartford, Vermont
Hill Fire & Emergency Services, Hill Air Force Base, Utah
La Crosse Fire Department, La Crosse, Wisconsin
Lake Mary Fire Department, Lake Mary, Florida
Lisle-Woodridge Fire Protection District, Lisle, Illinois
Louisville Fire Department, Louisville, Kentucky
Moody Air Force Base Fire and Emergency Services, Valdosta, Georgia
Newport News Fire Department, Newport News, Virginia
Ottawa Fire Services, Ottawa, Ontario
Pompano Beach Fire Rescue, Pompano Beach, Florida
Puget Sound Regional Fire Authority, Kent, Washington
Shaw Air Force Base Fire and Emergency Services, Sumter, South Carolina
Township of Langley Fire Department, Langley, British Columbia
Union Township Fire Department, Cincinnati, Ohio
Westminster Fire Department, Westminster, Colorado
CPSE Educational Sessions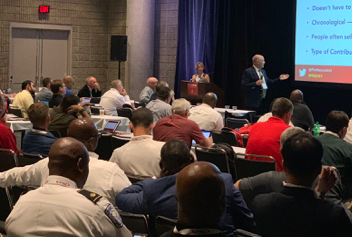 Debbie Sobotka and Rick Mason from CPSE
CPSE had two programs at FRI this year. CPSE Chief Operating Officer Debbie Sobotka and CPC Program Manager Rick Mason, CFO spoke on "Professional Designation: A Model for Success." The session focused on how the role that individual self-assessment plays in helping officers to identify strengths and weaknesses to create a road map for achieving career success. Several credentialed officers in the audience shared their experience and benefits achieved by going through the designation process.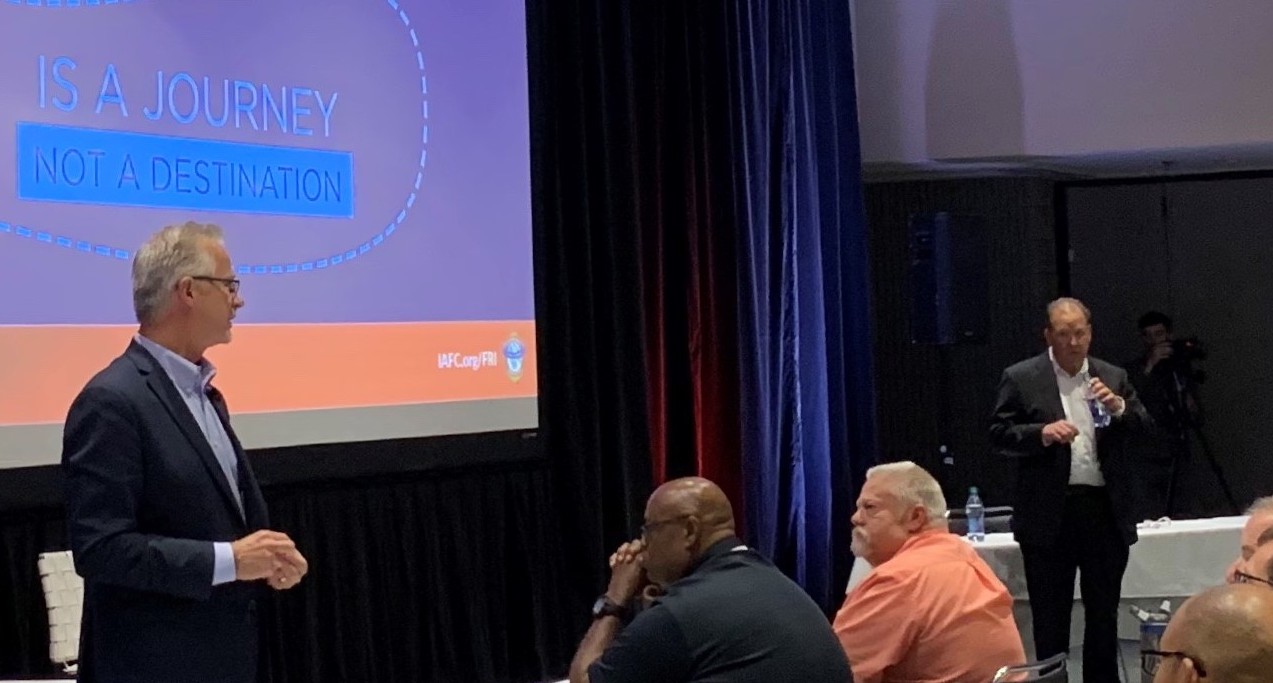 City Manager Darin Atteberry and Fire Chief Tom Demint
As part of the Officer Development Program held during Fire Rescue International, CPSE's Chief Executive Officer, Preet Bassi, moderated a session with Darin Atteberry, ICMA-CM, City Manager for Fort Collins, Colorado, and Tom DeMint, CFO, Fire Chief of the Poudre Fire Authority, Colorado, titled "If Not Excellence, Then What: City Manager and Fire Chief Collaboration." Atteberry serves on the CPSE Board of Directors and highlighted what he believes makes for an optimal fire chief, while DeMint, chief of a CFAI-accredited department, showcased the numerous ways he engages with the community. Over 120 attendees remained engaged and left with lessons on focusing on community outcomes and how to continuously improve even if the fire service in a community is its highest rated service.
CPSE Leadership Receive First Look at 10th Edition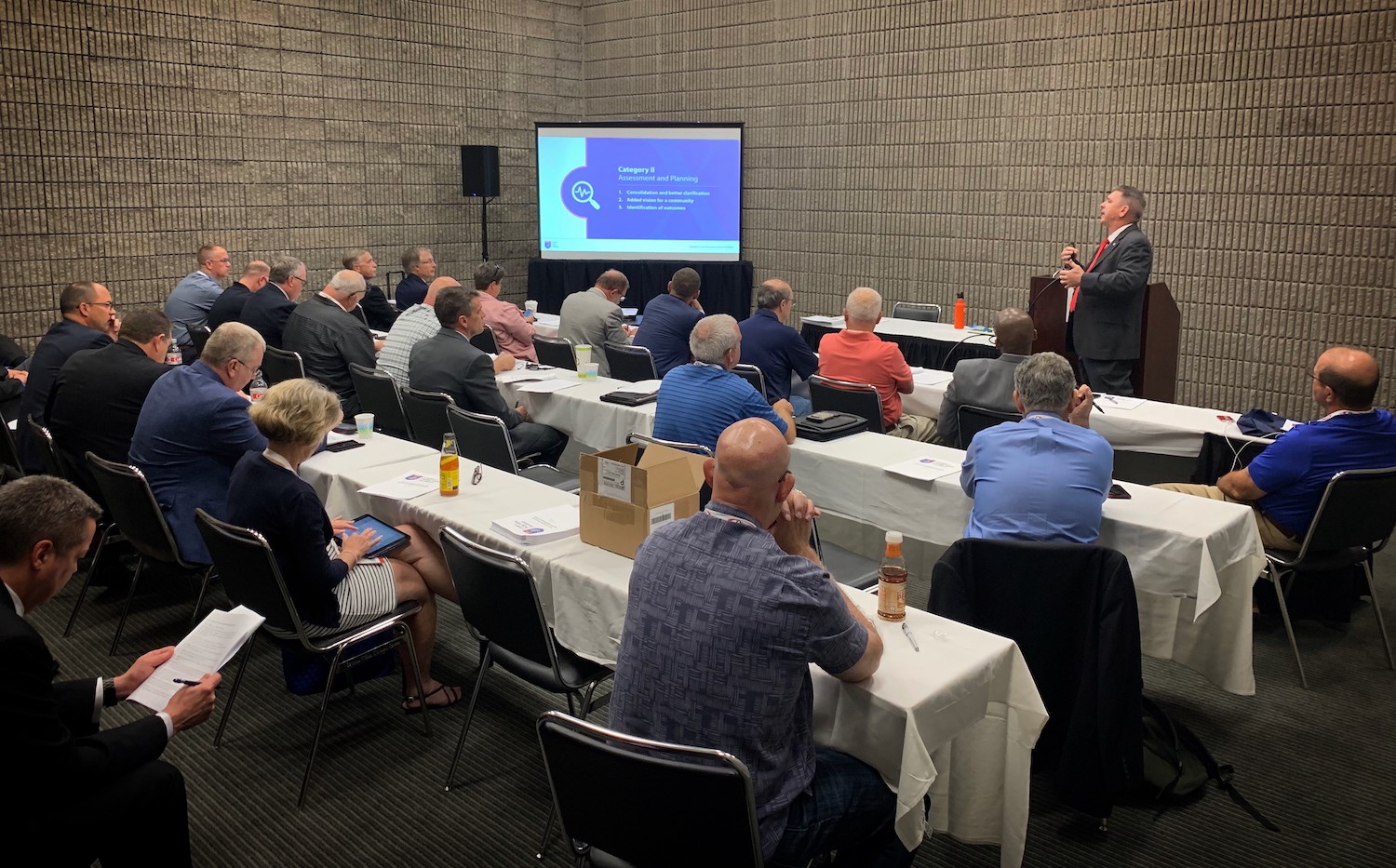 CPSE Board and commission members along with accreditation team leaders received a first look at the draft of the 10th edition of the Commission on Fire Accreditation International model.
Held following the close of the CFAI hearings on Thursday August 8th, 40 attendees were provided an overview of how the draft had been developed and the major changes being recommended. CPSE's Chief Executive Officer, Preet Bassi, CAE, highlighted that feedback had been sought from approximately 470 individuals during 18 consortium meetings and that almost 70 subject matter experts had worked collaboratively to craft the recommended changes. Karl Ristow, CFO, the CFAI Program Director, introduced the changes and advised that a public comment period would be kicking off in mid-August (now open) and running through the end of September. More information about the 10th edition of the CFAI Model, including access to the public comment forms and 10th Edition Draft, can be found at the 10th Edition pages on the CPSE website.
Commission on Professional Credentialing has Leadership Changes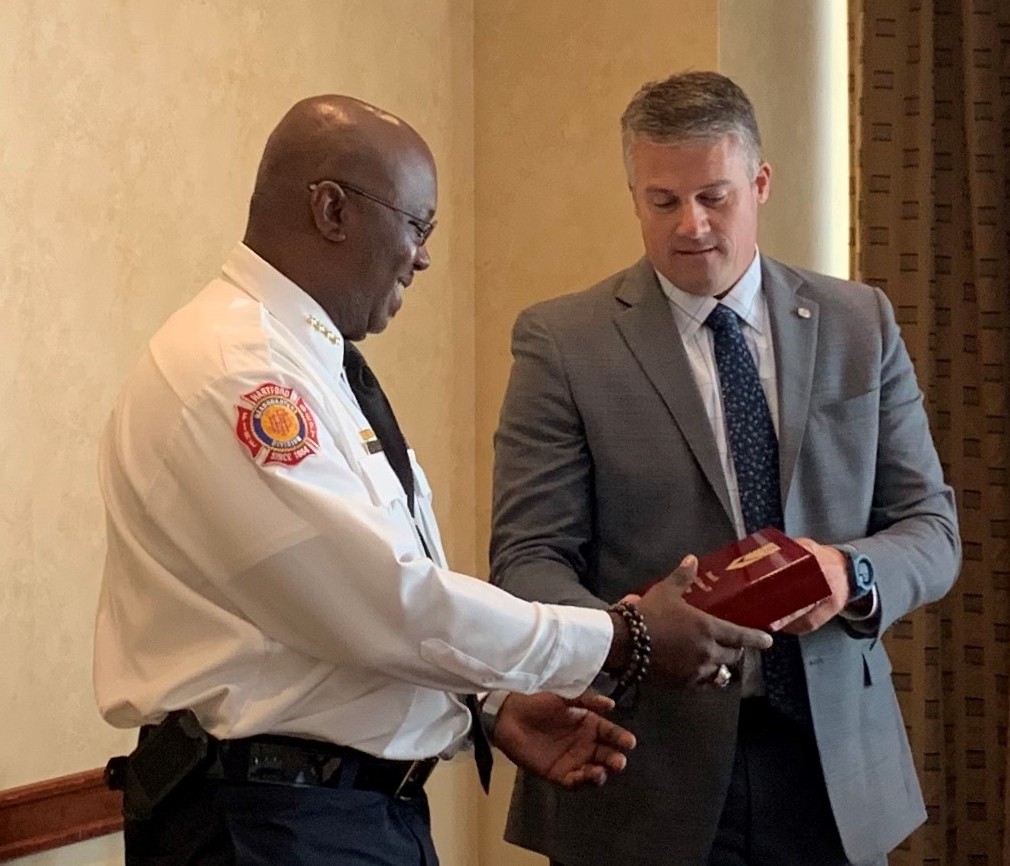 Chief Reggie Freeman and Chief Derek Bergsten
During the Commission on Professional Credentialing meeting, outgoing Chair Reginald Freeman, CFO, fire chief of the Hartford Fire Department in Connecticut was recognized for his leadership since 2016 and also for his nine years of dedication and commitment of time to the Commission. Chief Freeman will complete his term October 31st. Thank you Chief Freeman!
The Commission also voted in a new Chair and Vice-Chair. Chief Derek Bergsten, CFO, CEMSO, CTO, Career Department Representative and Fire Chief, Rockford Fire Department, IL, was elected to serve as Chair during the next year. Mr. Matt Vinci, At-Large Representative and Director of Education, Training and Human Relations, International Association of Fire Fighters (IAFF), was elected Vice-Chair. Congratulations to Derek and Matt!