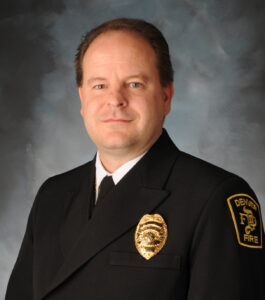 The Commission on Fire Accreditation International has appointed Chief Eric Tade, CFO, as its newest commissioner representing Fire Agencies Serving Populations of 250,000+. The CPSE Board unanimously approved his appointment.
Eric Tade is the fire chief of the Denver Fire Department, a CFAI accredited agency. He joined DFD in 1991 and has risen through the ranks, which included assignments in Operations, Dispatch, the Denver International Airport ARFF and Administration. He also served as Director of Governmental Affairs for IAFF Local 858, helping to improve communications between the Union, the department and elected officials. He is also on the Executive Board of the Metropolitan Fire Chiefs Association.
Chief Tade holds a degree in Fire Science and is a graduate of the International Association of Fire Chief's Officers Leadership Program.
Chief Tade earned his designation as Chief Fire Officer in 2018.
The Commission on Fire Accreditation International (CFAI) has 11 members that represent a cross-section of the fire and emergency service, including fire departments, city and county management, labor, standards development organizations, and and the U.S. Department of Defense. CFAI holds public hearings at the CPSE Excellence Conference each spring and at the International Association of Fire Chief's Fire Rescue International Conference each summer to review agencies applying for accredited status.
Learn more about the individuals that graciously volunteer their time to overseeing accreditation.