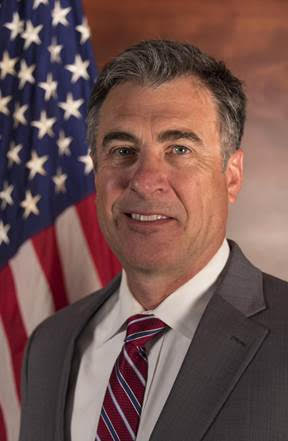 CPSE President Allan Cain, CFO-2009
CPSE Corner had an opportunity to talk with the CPSE Board President Allan Cain, CFO-2009, about his second year as president and the organization's direction for the future.
CPSE Corner: What is your vision for CPSE's future?
President Allan Cain: My vision is for our organization to become the hub, the center, the go-to place for the fire service or governing boards or professional managers to seek information in order to improve their effectiveness, to help make the fire service and officers better. I would like to be considered the smart, thoughtful, reflective part of the fire service where people can get answers to difficult questions.
To accomplish this, we have to be forward looking or, as I saw in an article by Jeff de Cagna (Developing a Foresightly Perspective), we need to have a "foresight perspective" or to be "foresightly." There were a few great points in this article that I though really applied to CPSE.
For example, one is discarding orthodoxy. That is an essential part of continuous improvement, and probably the best recent example of that is the development we're doing right now of the CFAI 10th Edition. We have had to discard parts of the previous edition to help create a new one, we have to do that to work with the future.
We also have to be aware of what are the drivers of change, in our communities and in our organizations. There are a myriad of these that include issues such as socioeconomic inequality, which impacts our abilities to generate revenues to support our operations. Mentoring, which we have long recognized as an important part of professional credentialing. Just yesterday, I had someone ask me to be his mentor and I was honored that he asked me, but also a bit scared by his request because it is such a huge responsibility.
We need to empower women, they are so underrepresented in our ranks, and I have made this a conscious part of building our leadership team on the Board. We recently had some new additions, including Mary Cameli, the chief of Mesa Fire, who will be our new Treasurer, along with new CPC Commissioners Melissa Stevenson Diaz, the city manager for Redwood City and Chief Toni Washington from Decatur Fire Rescue. Lori Moore-Merrell stepped down from the Board this year, which is a huge loss for us, she did amazing work for the profession during her time with us. And I certainly want to highlight our CEO Preet Bassi and her tireless contributions to the success of CPSE. And along with these we also have a number of women that are staff, contractors, and volunteers contributing to our organization every day. There are so many other points that we could be hitting on, but basically we need to be setting the example for the future of the fire service within our own organization.
CPSE Corner: CPSE is all about continuous improvement in the fire service. How does this apply to CPSE as an organization?
Cain: This was a foundational year for CPSE University where we rolled out the Learning Management System. This has been a strategic priority for the organization for several years, and I am so glad to see it become a reality. We also held our first-ever instructor meeting to help get everyone on the same page, much like we did with the CFAI Team Leaders a few years ago.  Both of these efforts are to make our operations more effective and relevant.
Another area where we are taking a hard look is reviewing the CFAI hearing format. In August, we had three full days of hearings for the first time, which is a lot to ask of our volunteer commissioners and it is a lot of staff work to produce the reports. As we get more agencies seeking accreditation, that is putting a larger strain on the system and we have to look at ways to make it more scalable. Similar efforts are underway to streamline the CPC application process.
CPSE Corner: What projects has CPSE taken on in 2019?
Cain: We recently had the University of Southern California work with us on looking at what it would take to develop a proposed Center for Innovation. They prepared a well-researched report for the Board, which has been thinking in this direction for some time, and we are now closer than we have ever been to possibly making this a reality. It is going to take resources to stand it up, and we are going to be having more discussions along this line in the coming year.
One of the major initiatives this year was developing the CFAI 10th Edition. Every four or five years we look at the accreditation model and see what changes are needed, living the continuous improvement mantra that we are preaching to others. We undertook a series of listening tours across the country getting input, along with the comments that so many people submitted online, and we'll be rolling out the new edition in 2020 for agencies appearing before CFAI starting March 2022.
We have been working closely with the ICMA on developing a white paper on the 21st Century Fire Service, and we are working on finalizing it. This has been a great collaborative effort with one of our key partners that ties into the future of CPSE.
CPSE Corner: What role do people such as the Peer Assessors, Peer Reviewers, and other volunteers play in CPSE?
Cain: Clearly, if we did not have the hundreds of volunteers, the peer assessors, peer reviewers, commissioners, what we do would not be possible, the volunteers are absolutely essential. I cannot say enough about their contributions to the organization. We have a  paid staff of eight people, but if you count all of the volunteers, we are an organization of hundreds. And the volunteers on our Board of Directors, they also put in untold hours. As I mentioned earlier, we are having some changes as some go off and new ones come on, and their contributions, their talents, make us a stronger, more diverse, organization.
Each year at the Excellence Conference we like to give some special recognition to our volunteers through some of our awards. The Ray Picard Award recognizes someone who shows exceptional leadership and exemplifies the qualities of ability, character, dedication and leadership that Chief Picard exhibited, and in 2019 this award went to Olathe Fire Department Captain Mike Hall. And the Ronny Jack Coleman Leadership Legacy Award is given to a designated individual that is dedicated to lifelong learning and leadership, and this year's award went to Assistant Chief Derrick Clouston from the Stoney Point Fire Department. The CPSE Ambassador Award is given to an individual who goes above and beyond in their support of accreditation, credentialing and CPSE as a whole, and this year's award went to two deserving individuals: Chief Mike Pritchard, CFO, Director, Fire and Emergency Service Branch, U.S. Marine Corps and Assistant Chief Carey Waddell, CFO, CTO, FM from Beale Fire and Emergency Services.
We also want to recognize those that work so hard on the accreditation process, and each year we award the Green Pen Award at the CFAI hearings to team leaders that have gone above and beyond in writing an excellent accreditation report. This year it was given to David Farnum, Jerry Nulliner, Rick Potter and Mike Arena.
CPSE Corner: While we're talking about volunteers, why do you volunteer your time for CPSE?
Cain: I volunteer because I have found out that if you hang out with smart people, some of that is going to rub off. I'm a learner, and if I hung out with the right people, I would learn. That's why I'm here, working with the best and brightest in the fire service, open for change, willing to take risks. That's the group I want to be a part of.
CPSE Corner: What is ahead in 2020 for CPSE?
Cain: Well, one of the biggest changes is going to be the rollout of the CFAI 10th Edition at the Excellence Conference in March. We've been working on it for two years, and I really want to emphasize that this was not done in a vacuum, we did surveys, we went into the field to Consortium meetings and we received many comments on the draft. Even for a group that preaches change, there are going to be some big changes.
We're continuing to work on our Strategic Plan. We adopted a new one three years ago, a five-year plan, and we have accomplished a number of the items in it. We're going to continue to work on the others, but we are also looking ahead to the next iteration of the plan and this time we are going to be bringing in an outside consultant to help us so that we get a different perspective on what we are doing and where we could be going.
We also are working on beta testing a certification program for the volunteer fire service. We recognize that there aren't many volunteer fire departments in our accreditation pipeline and that becoming accredited can be a challenge for the thousands of departments. We're trying to think of new ways to work with them, as I said earlier, to discard the orthodoxy, the traditional ways of what we have done in the past to try and help meet their needs and be attentive.
CPSE Corner: Are there going to be any changes in the Board in 2020?
Cain: As I mentioned, Lori Moore-Merrell is terming off of the Board, having served since 2007 between being a CFAI Commissioner and Board member. We have benefited tremendously from her knowledge, and we are really going to miss her. Jeff Piechura is also stepping down, he has been our Treasurer. Jeff is a very thoughtful, introspective type of board member that can take the big picture and distill it down to easily manageable pieces, not everyone has that gift.
Jim Brinkley, a current CFAI Commissioner, from the IAFF is coming on, replacing Lori. And Joe Fernandez, CFO the fire chief from Broward County will replace Jeff Piechura as an IAFC representative to the board. Mary Cameli from the Mesa Fire Department will become our new Treasurer and will join Jeff Pomeranz, CPSE's Vice President, and I as one of our executive officers. We are really looking forward to having these folks in new roles and help give us some fresh perspectives as we move forward into 2020.
CPSE Corner: As we wrap up, do you have any closing thoughts on some of the highlights from your second year as CPSE President?
Cain: The growth of the organization and all that we do has been phenomenal. The Board has been blown away by how Conference has taken off the past few years, selling out each time and growing significantly from year to year. Another area is the Technical Advisor Program, we are so pleased with the growth we are seeing which means that we are helping more and more communities and fire departments do strategic planning and community risk assessments which means that we are helping to improve the fire service.
The CPC program hit some milestones, we had significant growth in the Fire Officer program. And this coming year at Conference we are going to be celebrating the tenth anniversary of the Fire Officer program which means that we have had the opportunity to influence a whole generation of the fire service. That's pretty big.
Earlier this month the first meeting was held at NFPA for the Fire Service Analyst professional qualification standard. There is such a need for this standard and I'm really proud to say that our CEO, Preet Bassi, was chosen to be the chair of this committee. Data and analysis is such a critical part of continuous improvement, and this will help everyone in managing their department's data and making better decisions based on data.
We also attended the first National Fallen Fire Fighter Truman Forum in Key West earlier this year and we were excited to be invited back to the second forum held in DC this month. This forum is a great opportunity and gives all of us a unique retrospective look at where we have come and to collaborate on moving forward.
CPSE was also invited to take part in the first International CRR Symposium held in the UK that was organized by The Vision 20/20 Project from the US and the National Fire Chiefs Council in the UK, which was a huge honor. We not only learned so much, but by networking with our peers from around the globe we help to increase our relevance. We are truly international, but we need to work on that part of it, creating a model that is transferable from one country to the next.
And I'd like to wind up by saying that being President of the Board has been a huge personal and professional honor. I am so thankful to the Board that has given me this opportunity and the confidence they have shown in me. And I want to really thank the staff and the volunteers that make all of what we do possible, without them, it just wouldn't happen.