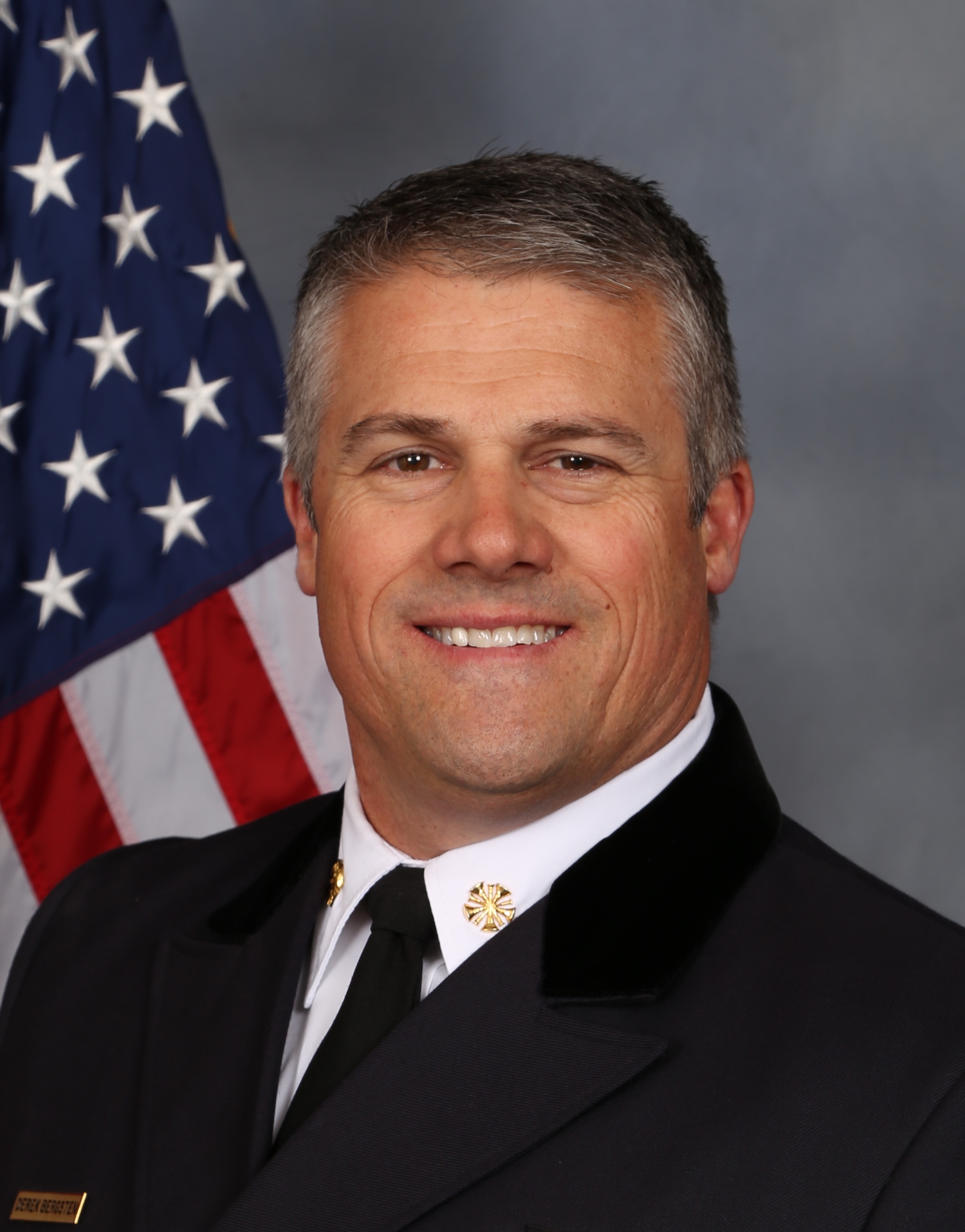 Chief Derek Bergsten, CFO, CEMSO, CTO and CPC Chair
by Chief Derek Bergsten, CFO, CEMSO, CTO and CPC Chair
In this month's CPSE Corner, we will discuss Professional Credentialing and how it can help each of us develop as fire service leaders, and in turn help guide our agencies into the future. 
We all know that the Center for Public Safety Excellence's (CPSE) Commission on Fire Service Accreditation International (CFAI) provides tools and a process for an agency to conduct self-assessment.   Working towards, achieving, and maintaining accreditation will:
Raise the profile of your agency with your community
Emphasize your agency's dedication to excellence to your stakeholders
Establish an agency-wide culture of continuous improvement
Assist with communicating your leadership's philosophies
Build positive relationships with your labor groups
Offer independent verification and validation of your agency's operations
Provide tangible data and information for your elected officials
We also know that accredited agencies are viewed as being community-focused, data-driven, outcome-focused, strategic-minded, well organized, properly equipped, and properly staffed and trained. 
Have you thought of self-assessing and continuously improving yourself and your staff? What if there was a tool to help?
One such tool is professional credentialing through the Commission on Professional Credentialing (CPC).  This follows a similar approach as accreditation but is designed to recognize career excellence and offer strategies for continuous personal improvement. Working towards, achieving, and maintaining your designation will:
Highlight your professional growth
Document strategies for your career enhancement and development
Demonstrate your commitment to life-long learning, skill development, and community service
Affirm your dedication to proficiency and delivery of all-hazard services to your community
Improve your chances of being successful in hiring and promotion processes by identifying you as a candidate with superior skills, knowledge, and leadership capabilities
Foster a source of pride for you or those in your agency you encourage to become credentialed
Professional credentialing outlines a process to conduct a self-assessment.  This self-assessment is then developed into a portfolio that contains certifications, documents, records, letters, and other information to show competence or opportunities for improvement.  These components focus on seven areas that are essential to being a successful and effective officer.  These are:
Education
Experience
Professional Development (training and certifications)
Professional Contributions and Recognitions
Professional Memberships and Affiliations
Technical Competence (depending on the credential, 7 to 20 different competencies)
Community Involvement
The largest part of the document is the technical competencies which are designed to show education and experiences in accordance with the pertinent National Fire Protection Association (NFPA) standards.  An example of a technical competency from the fire officer designation is Technical Competency #10: Company Operations and Deployment.  This competency references NFPA 1021 Chapter 4.2.1, 4.6.1, 4.62, 4.6.3, 5.6.2 and the learning content goals of "assessing resource needs; deployment of resources; assigning resources; responding to single and multi-company operations; and ICS/IMS and IAP Development."  In order to demonstrate competency in this responsibility, one must provide examples of coursework and training as well as a written description outlining the various experiences in the area.  While this is one example, the goal of professional credentialing it to provide a "well-rounded officer," so additional competencies are used to demonstrate a variety of skills and experiences, like those in human resources.  Technical Competency #1: Human Resources references NFPA 1021 and is focused on showing skills in utilization of human resources; personnel safety; personnel supervision; emergency and non-emergency supervision; and department administrative functions that pertain to human resources.
In the CFAI model for agency accreditation, Category VII: Training and Competency, 8A.5, describes the need for an organization to have a command and staff development program that encourages pursuit of professional credentialing.  While there is no specific need to follow only the CPC models, the Chief Fire Officer, Chief EMS Officer, Chief Training Officer, Fire Marshal, and Fire Officer credentials provide great tools to ensure our personnel are highly equipped to meet a variety of challenges.  CPC developed these designations using a model that looks at the "whole" officer. Achieving the designation requires a strong educational background, diverse participation in emergency services at the local, state, and national level; and demonstrated involvement in the broader community, all validated by emergency services peers.
The credentialing process is a great example of how you can work with your labor group to develop the future leaders of your organization.  As Matthew Vinci, CPC Co-Chair and the director of Education, Training, and Human Relations for the International Association of Fire Fighters (IAFF), said in his Firehouse Magazine article on fire service credentialing, "one of the best educational opportunities for fire service leaders is offered through the Commission for Professional Credentialing (CPC).  The credentialing process develops highly trained emergency response personnel to serve as leaders on the fireground, as well as in the firehouse.  Those who strive to ascend in the fire service must embrace education and personal growth, and the credentialing process offers opportunity for both."
Continuous improvement should not only be thought of as being for the organization you represent, but also for the individuals leading that organization.  As chief officers, we are responsible for setting the example for each and every member of our department.  After all, how can we talk about the benefits of the agency accreditation when we do not hold ourselves to the same level of professionalism? 
CPC has a variety of designations that will ensure that the individuals have the proper education, training, and experiences to validate their professional competence in fire and emergency services.  The Fire Officer designation is a great first step for you to consider for your company officers.  This designation enhances the stature and capabilities of not only the individual who achieves the designation, but their organizations and communities as well.  Some specific benefits are a demonstration that the individual has developed a strategy for continued career improvement and development, developed a commitment to continuing education, training, and skill proficiency, and it serves to improve the promotional and hiring process by enabling authorities to quickly identify individuals with superior skills, knowledge, and abilities.
As a CFAI Peer Assessor, I am frequently tasked with assessing an agency's training program.  One of the common misconceptions of credentialing is that it is a one-and-done process.  Just like agency accreditation it is all about continuous improvement for yourself, which has a direct positive impact to the agency, the fire officer, and the community.  I will often ask fire chiefs "if not professional credentialing, then what?"  What are you doing to support succession planning by developing a strategy to identify individuals with the skills, knowledge, and abilities to be the future leaders of your organization and give them a pathway for continued career development?
I would like to challenge every fire chief who reads this article to support at least two of your members in the pursuit of designation for professional credentialing.  If you would like any support or further information please contact me.
---
Derek Bergsten is chief of the Rockford, Illinois, Fire Department, a CFAI-accredited department, which he has been with for over 20 years. Chief Bergsten holds an associate's degree in Science and Fire Science from Rock Valley College, a bachelor's degree in Business and Organizational Development from Western Illinois University and a Master of Public Administration from Northern Illinois University. He is a graduate of the Executive Leaders Program at Naval Postgraduate School's Center for Homeland Defense and Security.  He earned his Chief Fire Officer designation in 2011, Chief EMS Officer in 2012, and Chief Training Officer in 2016.