This year's Excellence Conference hit a high mark with the most attendees – over 700 people took part in four days of education, hearings, and networking.

During the opening session, all first-time attendees were asked to stand and be recognized. An impressive number were joining their first-ever CPSE Excellence Conference. 
A tremendous benefit of such a large gathering is the networking that goes on throughout the four days.
Joint Board/Commission Meeting
At each Excellence Conference, we hold a joint meeting of all the members of the CPSE Board of Directors, the CFAI Commissioners, and the CPC Commissioners. This is an opportunity to brief CPSE's governance members on their duties to the organization while also providing programmatic and corporate updates.  
The conference was kicked off with a Presentation of the Colors and singing of the National Anthem by the Orange County Fire Rescue Department Honor Guard.
CPSE Board President Allan Cain, CFO and CPSE CEO Preet Bassi presented the 2019 Annual Report during the opening session. Some of the highlights from the report included:
An increase in the number of accredited agencies by 12 along with an additional 3.2 million residents in communities in the United States now being protected by a CFAI-accredited agency. In Canada, 17% of the population is being protected by an accredited agency.
The agreement to work with the Department of Defense on accreditation and training needs was renewed for another five years.
An additional 199 officers were designated. While Chief Fire Officer has the most, Fire Officer is growing quickly, reaching 500 in 2019. You can find listings of all the officers under the CREDENTIALING tab on the website.
In 2019, CPSE staff visited 18 consortium meetings to learn firsthand the benefits and challenges faced in gaining accreditation and credentialing.
CPSE University launched in 2019 and delivered 33 in-person workshops to 1,200 students. In addition, over 1,100 users utilized the online Learning Management System at CPSE University.
In December 2019, the CPSE Board of Directors approved the 10th Edition of the CFAI Model based on input from 11 CPSE partner organizations, 469 consortium members, and 60 volunteers.
Denver's Chief Story Storyteller Rowena Alegria gave a riveting keynote presentation on the role that she plays in helping Denver tell its citizens' stories. Ranging from fire fighters to cowboys, she told how the technique of storytelling can help bring a community together and create a shared experience woven out of the people that make up such a large and diverse city.
Each year, several awards are given out at the Excellence Conference honoring individuals and organizations that have made a significant difference.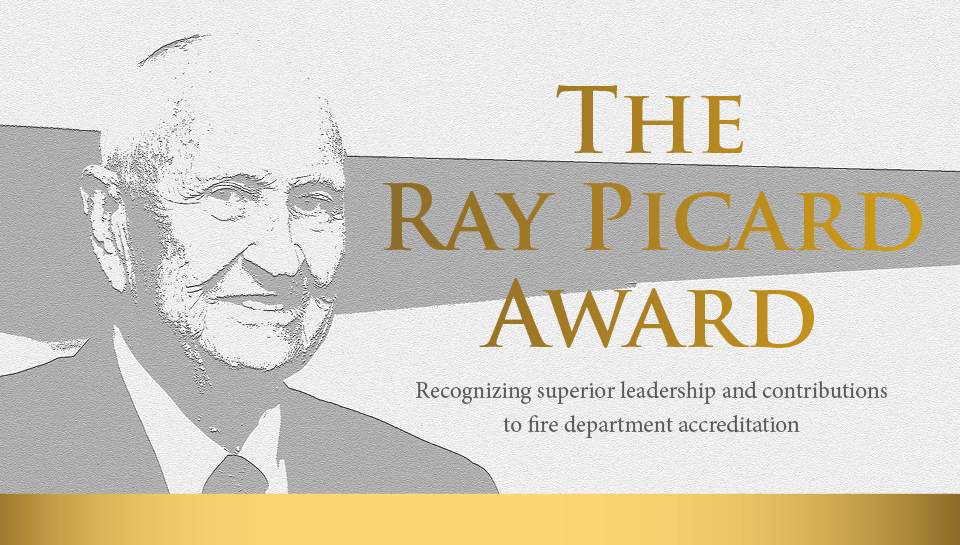 Chief Thomas C. Thompson, CFO, was awarded this year's CFAI Ray Picard Award that recognizes leadership and outstanding contribution to the CFAI and the fire and emergency services. Chief Thompson recently retired from Camp Pendleton Fire and Emergency Services in California, was the past chair of the Commission on Fire Accreditation International, and spent several years on the Commission as the DoD representative. He lives and breathes process improvement and volunteered countless hours teaching and encouraging others. He led three departments to accredited status and has been involved with CPSE for over 20 years.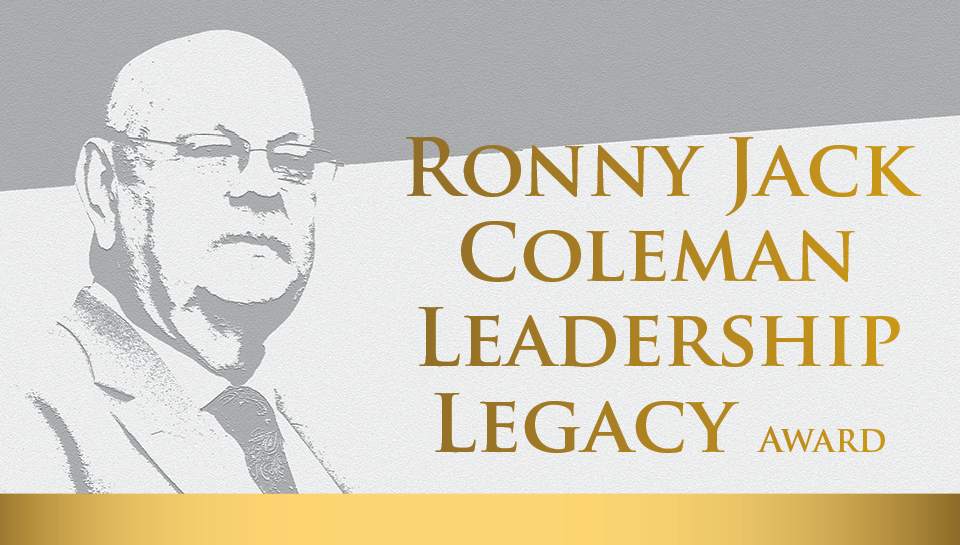 This annual award recognizes an individual who holds a designation through the Commission on Professional Credentialing and who exemplifies the ability, character, and dedication to lifelong learning and displays the leadership attributes embodied by Chief Ronny Jack Coleman.
The CPC Ronny Jack Coleman Leadership Legacy Award was given to Santa Clara County Deputy Fire Chief Stephen Prziborowski, CFO, CTO. Chief Prziborowski earned his first Chief Fire Officer designation in 2008 and then Chief Training Officer in 2014. He then became a peer reviewer for CPC and is very active in encouraging others across the nation to become credentialed.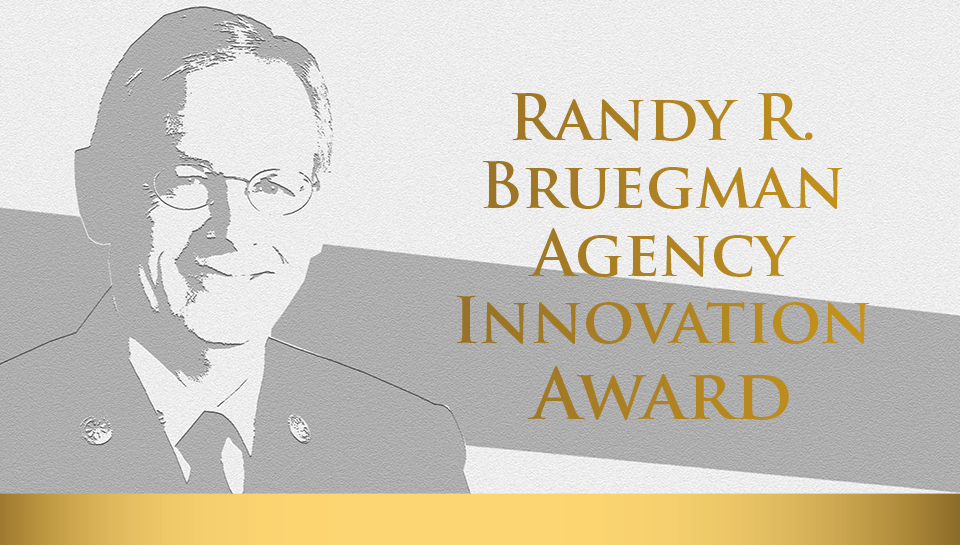 This annual award is presented to an agency that is internationally accredited by the Commission on Fire Accreditation International and has worked collaboratively within their agency and community to innovate a practice leading to improved outcomes that could serve as a model for the greater fire and emergency service.
Clackamas Fire District #1, Milwaukie, Oregon was selected as this year's award recipient. They partnered with Clackamas County Public Health, and American Medical Response Northwest to implement Project Hope, a program designed to address the opioid epidemic.
The goals of Project Hope are to:
Reduce the number of repeat overdoses while decreasing 911 calls and hospital readmissions.
Improved quality of life for patients with substance use disorders.
Bridge gaps in care by connecting vulnerable patients to treatment services and other resources that address social factors that may be influencing the patient's' health.
Hard reduction through distribution of naloxone kits and deliver of harm reduction messages to opioid users.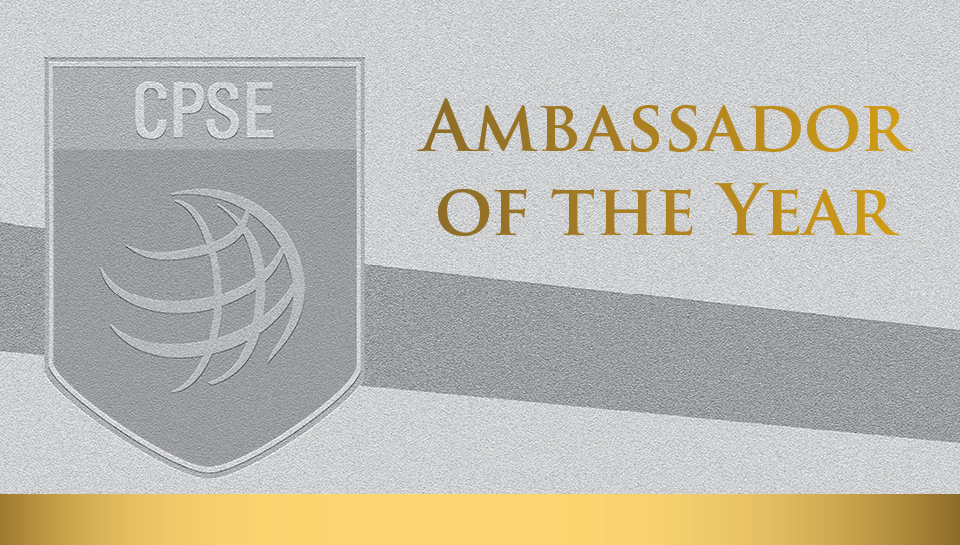 The CPSE Ambassador Award recognizes an individual who goes above and beyond in their support of accreditation, credentialing, and CPSE as a whole. This year's award was given to Fire Chief David Pennington, CFO, from Springfield Fire Department in Missouri.
Chief Pennington received his Chief Fire Officer designation in 2012 and is a strong advocate for professional credentialing within his department and neighboring communities. Under Chief Pennington's mentoring and leadership, 25 officers of the Springfield Fire Department have successfully gone through the designation process making his department have more designated officers than any other. In addition, Chief Pennington has served as a peer reviewer for the Commission on Professional Credentialing since 2014. A proponent of accreditation, Chief Pennington successfully took his department through accreditation for the third time in 2019.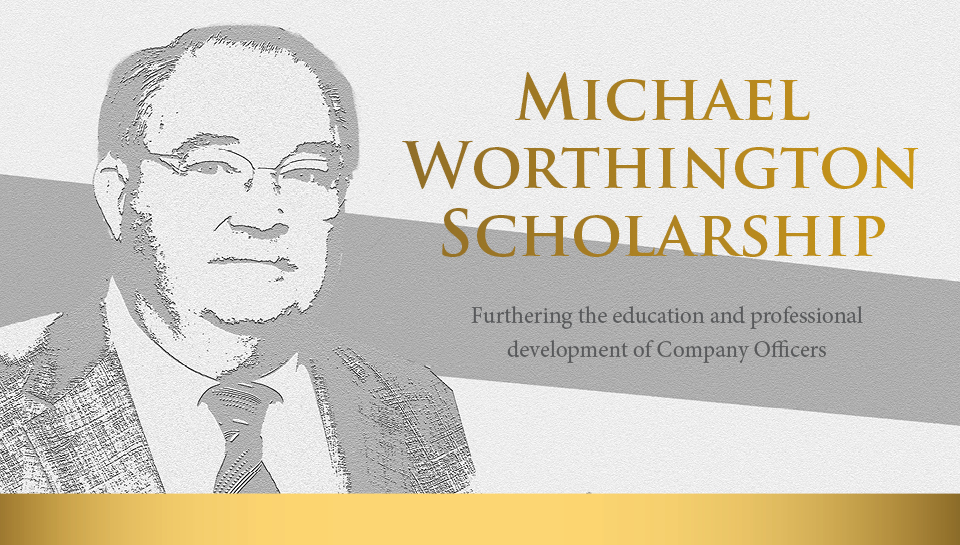 In 2016, CPSE created the Michael Worthington Scholarship in honor of our long-time former Board Member who passed away in 2015. Annually, CPSE awards up to five scholarships. Recipients of the scholarship earn their Fire Officer (FO) designation and have their initial application fees as well as the registration fee to attend CPSE Excellence Conference waived.
This year's recipients were:
Captain Scott Cowan, Calgary Fire Department, Calgary, Canada
TSgt William Wailgum, Cheyenne Mountain Air Force Station Fire and Emergency Services, Colorado
Aaron Weisenberger, Captain, Dover Air Force Base Fire Emergency Services, Delaware
Benjamin Willey, Captain, Fargo Fire Department, North Dakota
Trevor Wilson, Captain, Indianapolis Fire Department, Indiana
10th Fire Officer Anniversary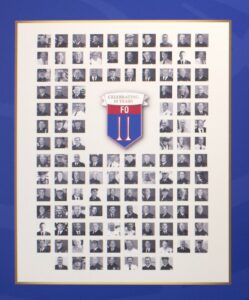 This year is the tenth anniversary of the Fire Officer's program. This designation program started out slow, with only 20 designees the first year, but now we have over 500, and growing. Photos of everyone that had gone through the program were made into a poster with those in attendance asked to stop and autograph their photo.
Accreditation and Credentialing
Thirty-four agencies appeared before the Commission on Fire Accreditation International for accreditation or re-accreditation. The hearings were streamed live to a global audience on the CPSE website. There are now 285 accredited agencies around the world, protecting 11% of the population in the United States and 17% in Canada.
A total of 60 officers were designated (39 new designations and 21 renewals) during a meeting of the Commission on Professional Credentialing bringing the total of designated officers to Chief Fire Officer 1435, Fire Officer 505, Fire Marshal 168, Chief EMS Officer 147 and Chief Training Officer 138.
Two of the more rewarding events are the lunches on Wednesday and Thursday. During Wednesday's lunch, all the officers that had been designated or re-designated in the past year were honored, with those in attendance being asked to stand. On Thursday, the agencies that had been accredited or re-accredited were recognized, and those in attendance were also asked to stand and be recognized.

CPSE's mission would not be possible without the time and talent of our dedicated volunteers.  The inaugural volunteer recognition breakfast was held to acknowledge their contribution and a total of 185 volunteers attended the Excellence Conference and were able to join this special event.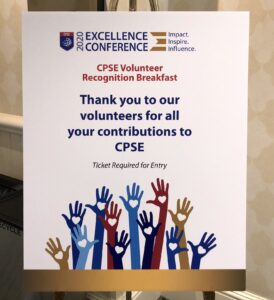 A key part of the Excellence Conference is the over 50 unique educational sessions. Each year we expand the offerings, but also continue to focus on the needs of those going through accreditation and designation. A series of tracks provided focus that included Accreditation Bootcamp, Accreditation Academy, Progressive Leadership, Credentialing, Technology and the attendee-led Exchange sessions.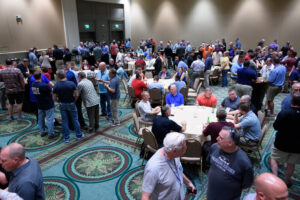 A regular event is the Tuesday evening fundraiser to support the vital mission of the National Fallen Fire Fighter Foundation. A series of prizes were raffled off, including an all-expense paid trip to the CFSI Annual Dinner contributed by ISO. Due to the generosity of those that attended, we were able to raise $7,316 – thank you!
There are 18 CPSE Consortiums that focus on both accreditation and designation. The Excellence Conference provided an ideal opportunity for them to meet and share ideas and for us to learn from them about what CPSE can do to help them in their collective efforts.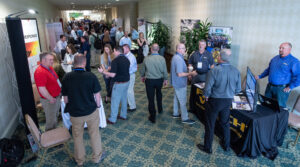 The exhibitors provided an invaluable opportunity for the attendees to learn about the products and services that they have available that can help them in their quest for continuous improvement.
For 2021, we are coming back to Orlando on March 2-5, so put those dates on your calendar!  Looking ahead to 2021, we are working on plans to try and accommodate the growing number of people that want to attend.