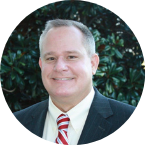 The Commission on Fire Accreditation International has appointed Sumter County (FL) County Administrator Bradley Arnold representing the International City/County Managers Association as its newest commissioner. The CPSE Board unanimously approved his appointment.
Since 2006, Bradley Arnold has served as the County Administrator of Sumter County (FL) Board of County Commissioners and previously held two similar positions in Georgia. His earlier career included working in two family businesses and serving in the United States Navy Reserve which included an active duty deployment to Afghanistan.
Mr. Arnold earned a Bachelor of Science degree in Physics from The Citadel and a Master of Public Administration degree from Valdosta State.