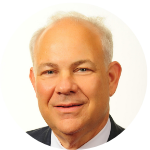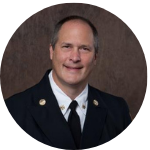 By Jeff Pomeranz and Greg Smith
A key component to the success of a fire department and the fire chief is the relationship with the city's chief executive officer.  These leaders need a productive and collaborate relationship.  So, what are those essential ingredients that demonstrate respect and help both leaders build support at a community level?  What components are needed for a fire chief and city manager to build a strong relationship between each other and other members of the City's executive team?  What do they need from each other and what would be a blueprint for success for a new fire chief or city manager trying to build a healthy partnership?  Finally, can the relationship withstand the worst natural disaster in your community's history?
To begin with, we all know that the fire department is an essential component of a community's ability to mitigate threats to health and property.  Effective fire services provide both emergency response and community risk reduction.  Quality service delivery, adequate training and equipment, and positive community relationships help improve quality of life, growth, and economic opportunity in a municipality. 
Essentially, the city manager and the fire chief share similar visions and values.  The relationship is symbiotic and, ideally, it should be that type of relationship.  In Cedar Rapids, and in many communities throughout the United States, the fire chief is a member of the city leadership team.  The leadership team plans, executes, and evaluates organization-wide strategies to ensure that the City Council's vision and goals are accomplished, and community needs are met.  The team is committed to demonstrating a leadership model that provides a vision of the future, clarity of purpose, and a means of communicating effectively.  Leadership teams create a culture in the organization where people can be successful.
The fire chief brings substantial value to the city leadership team. The fire chief provides a unique perspective from the fire service to the team and helps identify emerging issues around community risk and life safety, as well as preparedness and strategies for disaster response. Working alongside Police, Public Works, Utilities, Community Development, Finance, and Human Resources Departments, the fire chief and city manager develop common goals and methodologies for problem solving.  As part of the leadership team, the fire chief is attuned to organization, resource and tactical planning, core strategies and policies that contribute to the success of city government.  The fire department and its chief become an integrated part of the citywide budget and performance measures systems that are crucial to organizational health. 
Local governments are constantly constrained by resources, which makes resource sharing, contracting, and mutual aid an essential component of today's fire service.  Very much like the traditional mutual aid pacts with surrounding communities providing essential resources in times of need, the fire chief's incorporation into the city leadership team provides invaluable shared human resource management, policy development, and strategic planning. 
The closeness of the relationship between the city manager and the fire chief assures that relations are strong, respectful, and mutually supportive.  The city manager must have complete confidence in the fire chief – the individual that will be called upon to conceptualize and implement emergency plans and strategies to protect families and businesses.  There is too much at stake to have doubt when decisiveness and action is needed.  The mission of the fire department is too critical, and the service impacts are too substantial, for the city manager and the fire chief to not be engaged on a regular basis.
On August 10, 2020, with little warning, all 74 square miles of Cedar Rapids was impacted by sustained winds between 90-140 mph for approximately 45 minutes.  The intensity, duration, and widespread path of the storm was comparable to a Category 4 hurricane.  The storm, known as a derecho, caused unprecedented damage to the power grid almost immediately.  Residences and businesses experienced cellular phone and internet service outages that would last for up to a month for some customers.  Nearly every one of the 50,839 residential properties and 3,514 commercial and industrial properties in the city sustained damage.  The Cedar Rapids Fire Department would respond to 535 calls on August 10 from 12:30 p.m. to midnight.  Normally, the fire department averages 37 calls per day.
The true value and strength of a relationship between the chief fire executive and chief city executive is accentuated during a disaster when lives and property are in peril.  Large portions of the city were impassable and the infrastructure was severely damaged.  Perhaps the most important reason that the fire chief and city manager must have a healthy relationship is the chief fire executive is empowered to put the right people in the right positions through both the recruitment, hiring, and promotional processes.  It was necessary for fire commanders to deploy firefighters and make decisions about incident responses without the luxury of discussion with the fire chief.  However, this is the true measure of successful relationships when there is complete trust in standards and procedures where a framework has been created for continuity with the managed emergency response throughout the command structure.  Fire officers throughout the chain of command have the proper training to make and be supported in their decisions during a crisis.  This is accomplished through shared confidence in the mission of the department and city as a whole. 
Working collaboratively with other departments in the city, there is a team approach to resolving issues, such as temporary housing and food for those displaced, damage assessments, debris removal, and restoration of essential services.  Disaster recovery often involves difficult decisions, collaboration with county, state and federal agencies, and partnerships with non-profits and other relief organizations.  Coupled with political pressures and the almost constant push for swiftness in disaster recovery, the city manager must have complete faith in their chief fire executive that they are professionally managing the incident.  The importance of strong relationships and trust that the city manager has built with elected officials cannot be understated.  The city manager reassures elected officials that there is a professionally managed emergency response, which works to maintain the fire chief's confidence and momentum throughout the incident response, which helps keep the chief fire executive focused on the mission.
While a natural disaster highlights the core components of a solid fire chief and city manager relationship, to bond the important facets of the fire chief and city manager relationship, it comes down to ten core relationship attributes and recommendations:
Trust, in concert with honesty and openness, is the foundation of a solid relationship. Open dialogue needs to be encouraged and practiced.  What is said between the fire chief and city manager must be held in confidence.
Eliminate the fear. Being open and honest means that some discussions will be difficult.  However, a fear of retribution or other negative consequence destroys the lines of communication and will erode the trust.  A partnership is patient.  A partnership is kind.  A partnership is not envious, boastful, or arrogant.
Be able to "agree to disagree." This theorem makes no statement on preference or value judgment regarding outcomes.  Further conflict would be unnecessary, ineffective, and undesirable.  The relationship remains amicable even though the fire chief and city manager may not agree on the issue.  The emphasis is on maintaining the relationship rather than letting a singular issue divide and conquer.
Don't micromanage. There is generally a negative connotation with the micromanagement style. Most fire service chief executive officers and city chief executive officers have multiple years of training and experience and today's leaders are well-educated.  They have a healthy balance of education, experience, and training to improve their departments and their community.   Allow both to do the job that they were hired to perform without controlling or closely observing each other's work.
Establish a culture of accountability. Most fire chiefs and city managers yearn for people to "tell it like it is."  For example, the city manager must be able to counsel and discipline with both candor and respect.  And, the city manager must not be afraid to confront or discipline any department leader.  This culture of accountability practiced from the top of the organization resonates all the way to the shift firefighter.
Show and demonstrate pride in the community. An effective leader takes pride in the community that they serve and celebrates the successes of the city and its employees.  Our community continues to celebrate the designation of an All-America City, a prestigious award that recognizes a city where citizens work together to identify and tackle community-wide challenges and achieve uncommon results.  Our community has faced two significant flooding events in the past 12 years and we were able to rise above the waters because of engaged citizenry, businesses and others working in partnership with city government, including the fire service.
We are all unique. Our differences make us special.  Both the fire chief and city manager must have the realization that his or her city is an individual city.  You are one-of-a-kind.  It is fallacy to believe that sound decisions are based solely on what comparably sized communities are doing.
Employees are considered the most important resource. At all levels, the employee must be valued.  This means that they are properly trained, equipped, and have opportunities for both personal and professional growth.
The fire chief and city manager have to be proactive and prevention orientated. The modern fire service is just as much about Community Risk Reduction as it is about fire response and all-hazards mitigation.  The 5 essential components of CRR include Education, Engineering/technology, Enforcement, Economic incentives/disincentives and Emergency Response.  Empowering citizens with fire prevention strategies and actions, removing the human element through devices that alert occupants or automatically close fire doors, enacting and enforcing fire codes that change negative behaviors, offering discounts to builders or property owners who install fire protection systems or holding those accountable who do not adhere to fire codes, and effectively trained and appropriately staffed firefighters who provide emergency response are all part of a successful Community Risk Reduction program.
Institutionalizing emergency planning as a means of being prepared. The city manager and fire chief work in partnership to develop and coordinate an Incident Management Team for response to local emergencies, natural disasters, and public events. For the city manager, there is no more important responsibility than to ensure that the fire chief has the resources to train, equip, and hire the right people to serve so that fire service personnel can reduce property loss, mitigate hazards, and preserve lives. 
One of the most important ways to solidify these 10 core relationship attributes is to seek fire department accreditation.  It is much more than getting a plaque that says your fire department is accredited, rather it is about validation from fire professionals that your fire department has a strong process of self-assessment, strategic planning and continued improvement toward better business and operational practices that ultimately result in a safer community.
The self-assessment process divides the department into 10 categories, allowing the process to separate similar areas and components to allow a systematic self-assessment. Areas including operations, governance and administration, human resources, and finance are assessed, researched, and evaluated, emphasizing the area's present performance, its past performance in meeting defined objectives, and the future plans to continue to meet the objectives of that criterion.
Community risk analysis evaluates the hazards and buildings in a community.  Risk evaluation ensures that fire protection is current and relevant for the community and the areas protected.
The standards of cover document provides a comprehensive evaluation of the community the department serves. This includes evaluating the community's demographics, population density, land and infrastructure limitations, and building stock. Furthermore, the department's resources and performance are evaluated, including staffing and deployment objectives; time of day demands on the department's resources; and total response times including call processing and dispatch times, turnout times, and travel times. 
The strategic business plan serves as the repository of all identified short-, medium-, and long-term goals and objectives. All findings in the self-assessment, risk analysis, and standards of cover portions are tied together to promote strategic discussion among the senior leadership and to plan for the future.
Working towards, achieving, and maintaining accreditation raises the profile of the fire department in the community and emphasizes the fire department's dedication to excellence to your citizens and businesses.  It furthers the culture of continuous improvement and provides independent verification and validation of our city's operations.
Accreditation is a willingness of your fire chief and city manager to be evaluated by peers throughout the country.  The process of accreditation is itself an integral part of the journey of becoming even better at what you and your organization are doing, and strengthen that relationship as you work collectively to meet and exceed best practices throughout the country.
The fire chief is supported when the city manager has made a significant investment in understanding the chief's perspectives and has instilled full confidence that decisions will be supported.  An open and active relationship solidifies integrity of both the fire service and city management.  The ten core relationship attributes, working through a natural disaster, and achieving accreditation have certainly strengthened the fire chief and city manager relationship in our community.
A common goal, a unified vision, and a culture in which interpersonal dynamics are appropriate are hallmarks of a successful organization.   The strong bond between the city manager and the fire chief makes the organization more functional and formable.  By aligning the city manager – fire chief relationship, it is then possible to accomplish what may have once been seen as impossible, making for a stronger, safer and better community for everyone.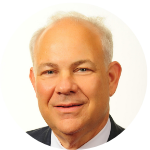 Jeff Pomeranz is the city manager for Cedar Rapids, Iowa, a position he has held since 2010. Prior to this he has served as city manager for West Des Moines, Iowa; Port Angeles, Washington and Del Rio, Texas. He has served as an executive board member for the Iowa League of Cities and the Iowa City Management association and was an adjunct professor for the Master of Public Administration program at Drake University.
Mr. Pomeranz holds a master's degree Public Administration from the University of Alabama and a Bachelor of Arts in Political Science from the Rochester Institute of Technology. In addition to his service on the CPSE Board, he served on the Commission on Fire Accreditation International from 2006 to 2011.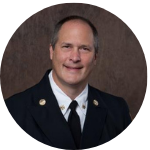 Greg Smith is the fire chief of the Cedar Rapids Fire Department.  Before his appointment as chief, Smith had been the assistant fire chief, managing the Operations Division of the department.   He has been a firefighter with the City of Cedar Rapids since July 1994, rising through the ranks as fire fighter, captain and battalion chief. 
Chief Smith earned his Bachelor of Science in Occupational Safety and Master of Public Administration from Iowa State University and achieved his Executive Fire Officer certification from the National Fire Academy.  He also is a designated Chief Fire Officer through the Center for Public Safety Excellence.
Chief Smith successfully led the fire department to achieving accredited agency status through the Center for Public Safety Excellence and the Commission on Fire Accreditation International.  Working towards, achieving, and maintaining accreditation raised the profile of the fire department in the community and emphasized the fire department's dedication to excellence to our citizens and businesses.  It furthered the City of Cedar Rapids department-wide culture of continuous improvement, as well as provided independent verification and validation of our city's operations