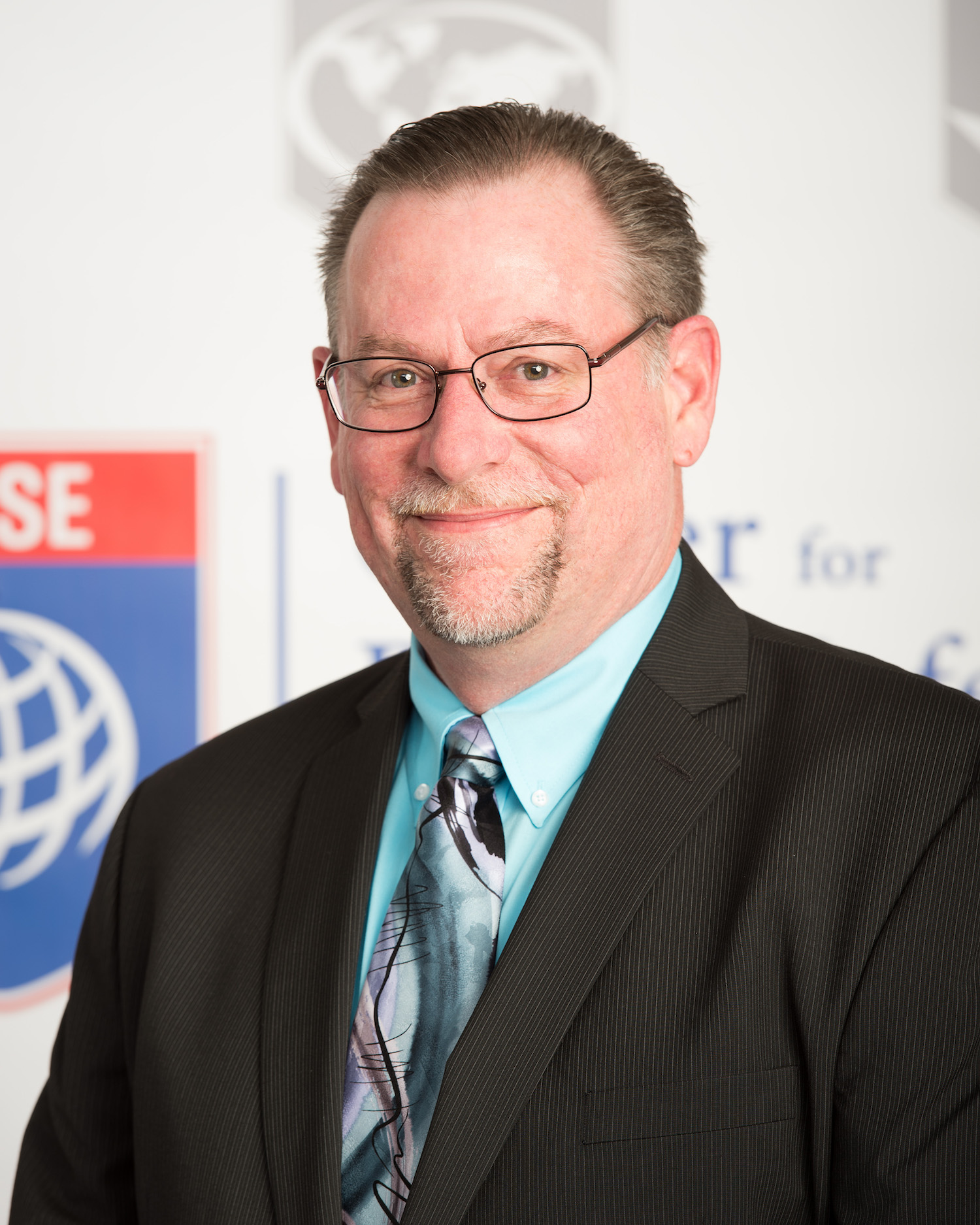 Imagine you're on a cruise to the Western Caribbean taking a much-needed vacation. Now, before you get too excited, imagine nobody on the ship knows where they're headed,  and everyone has their own idea for the ultimate destination. Without a clear itinerary and lack of collective enthusiasm for a single destination, the trip would be problematic.
You can equate it to paddling a canoe in an endless circle that drifts with the current. When CPSE's Technical Advisor Program facilitates strategic planning, we talk about everyone rowing in the same direction. The only way to know what direction an organization should head is through institutionalization of a strategic plan that keeps the organizational ship moving toward the same end result.
In this article, we will focus on the successes of agencies that have not only developed a strategic plan but are effectively implementing it. Along the way, we will also consider the challenges that agencies may encounter. For information on how best to develop a strategic plan, check out last year's CPSE Corner: Strategic Planning – That is for Business, Right?
Ways to Institutionalize
1.   Communicate to all levels, even during onboarding.
2.   Get all levels involved in the implementation and tap their creativity.
3.   Empower all leaders and let them go.
4.   Maintain accountability.
5.   Report progress regularly for all to see.
So, to start, consider the potential power of your strategic plan. No matter the format, design, or development process, your agency has a management playbook that wields control of your organizational destiny (assuming it is not just used to check an accreditation box and thus sits on a shelf collecting dust). What a great opportunity to communicate to all stakeholders, this is the change we want, and this is where we are heading. The question remains…how can you get your department to come along for the change ride if they don't know and don't understand the direction they are going?
Many avenues of institutionalization are used by departments that take seriously the power of the plan. All agency stakeholders who contributed to the development of the plan should be empowered to ensure that members from throughout the organization have an opportunity to be part of the implementation phase. This way, it is not just the chief's (or leadership team's) plan.
There are a few things here to showcase that might spark some creativity in you…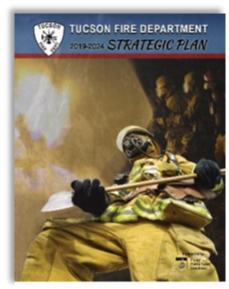 The Tucson Fire Department under the leadership of Interim Fire Chief Joe Gulotta was committed to institutionalizing their strategic plan. Even though they involved  representation from the department's varied membership to develop the strategic plan, they understood the need to get the information out to the entire membership and, therefore, start the institutionalization process. To channel the information, the department created two videos, that were created by their members rather than the leadership team. What a great way to get buy-in, create empowerment through continuous education of their members, and develop a clear understanding by the members that they play a critical role in the organization.
Tucson Fire Department Strategic Planning Videos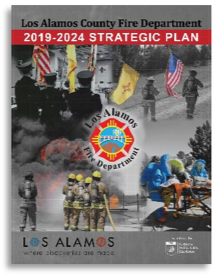 Los Alamos County Fire Department, an original CFAI beta site, has made strides in institutionalization of their strategic plan. They admit they have struggled with this over the years but found a good remedy to overcome the challenge. Today, their goals, objectives and all associated information reside on the department's "dashboard," where all members cannot only be made aware of the plan's focus and measured progress but can also be a part of the implementation. This came after station visits were made to ensure all members were aware of the future roadmap. Finally, the department uses a diverse team approach that consists of a mix of line and staff personnel. This multi-faceted institutionalization process has set them up for success in the implementation phase.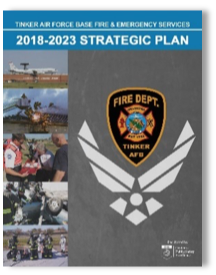 Tinker Air Force Base Fire & Emergency Services also strives to institutionalize their plan by seeking participation from all levels of the organization. They use survey instruments to gather more feedback department-wide on how to tackle the objectives and tasks before them. Finally, this organization uses their strategic plan in new member orientation to institutionalize from the beginning. This mix of processes has provided the organization with a firm foundation for implementation. As a Department of Defense organization, this department must consider their approaches in a different light in comparison to a municipal or district agency. What they are doing works well for them and keeps them rolling via continuous improvement.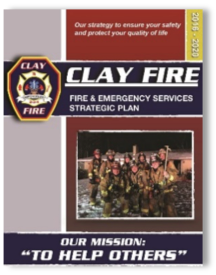 Clay Fire Territory engages similar processes to others in developing and managing their strategic plan, providing opportunities for involvement in the process on all levels. The champions of the plan are the leadership team (senior staff) members who recruit from within to gather extra talent that creates comprehensive involvement from top to bottom and that gives many more members a piece of the pie. This aides the institutionalization, as it pushes the information out and ensures everyone is focused. The department does continue to struggle with the uniqueness of being a territory. This is not to say they have not been successful but rather, they recognize that things are different in comparison requiring unique plan management processes.
While these departments have encountered some challenges, all found it important to develop responsive processes to get and keep everyone rowing in the same direction. Many employed a process of trial and error until they found the best way of institutionalizing their strategic plan. It bears repeating, it can't just be the fire chief's plan…everyone needs to embrace it and keep going. Diverse and wide participation leads to the greatest plan success. With change, there is always a guiding coalition that gets things rolling. However, for the change to truly occur, the guiding coalition must be able to gather more support (institutionalization) for change to truly occur.
"It's okay to try something that doesn't work. Take it back to the drawing board."
–        Norma Valdez, Los Alamos County Fire Department
The benefits from these coalitions helping to institutionalize the strategic plan far outweigh the costs of building them. Whether it's involvement by many, maintaining a compelling scorecard, or even producing videos, these steps towards institutionalization entrench the strategic plan into the organization and minimizes challenges. With these change agents in place, you will see another line of accountability for departmental success. It is not an easy task and each department, as we see, is different. You know your organization better than anyone and know what will and will not work.
One thing that was evident from the department feedback, was that in most cases, you will never have 100% buy-in, no matter what tactics you choose for institutionalization. That should not keep you down, nor should you step away from that challenge. Do your best and try anything and everything to find a process that aligns with your agency needs.
As you are setting course for change and continuous improvement, step back and assess your progress to identify ideas  you can employ to get everyone rowing in the same direction. You will get smoother implementation and even some other side benefits. As Chief Gulotta reported, the planning process and, further, the institutionalization empowered a company officer leading to a decision that supported the department and the mission. Their work "allowed [the company officer] to look at courage in the face of leadership." The company officer was able to make a leadership decision, understanding that it was for the good of the organization, met the mission, and moved things forward. Not a bad return on investment.
So, what do you say? Are you up for not only developing but truly institutionalizing your strategic plan? You won't be disappointed and will realize just how the door to implementation opens easier. It will never be completely easy, but you all as leaders know how to make things happen.
Thank you to the following individuals for providing feedback and guidance in the development of this article:
Joe Gulotta, Interim Fire Chief, Tucson Fire Department, Arizona
Norma Valdez, Senior Management Analysis/Accreditation Manager – Los Alamos County Fire Department, NM
Terry Ford, CFO, Fire Chief – Tinker AFB Fire & Emergency Services, Oklahoma
Ron Melser, Jr., FM, Division Chief of Planning/Accreditation Manager- Clay Fire Territory, Indiana
---
Brian Dean retired as an Assistant Chief after 28 years of service with the Winter Park Fire-Rescue Department. Chief Dean has extensive background in fire service operations, support, and accreditation. Brian continues to work with the fire service in many areas of accreditation by serving as a Mentor, Peer Assessor and Team Leader, as well as a Technical Advisor, Strategic Planning Manager, and instructor for the CPSE.
In 2015, Brian was awarded the Ray Picard Award by the CFAI. Chief Dean's educational background includes a Bachelor's Degree in Business Administration from the University of Central Florida; and a Master's of Science in Leadership from Grand Canyon University. Additionally, Chief Dean graduated from the Executive Fire Officer Program (EFOP) from the National Fire Academy and continues being professionally credentialed as a Chief Fire Officer (CFO) from the Commission on Professional Credentialing (CPC).