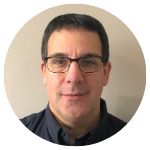 The CPSE Board of Directors has appointed Senior Risk Control/Fire Protection Engineer Salvatore Izzo to the Commission on Fire Accreditation International (CFAI) representing the insurance industry.
Mr. Izzo is a Senior Risk Control/Fire Protection Engineer for Verisk Insurance Solutions – Commercial Lines Underwriting (Insurance Services Office, ISO) with over 28 years of experience in the fire protection industry. He is a member of the American Water Works Association's Fire Protection Committee, a Professional Member of the Society of Fire Protection Engineers and a member of the National Fire Protection Association and National Fire Sprinkler Association. Mr. Izzo is a licensed Professional Engineer in the discipline of Fire Protection Engineering and is an NFPA Certified Fire Protection Specialist. He has over 30 years of experience as a fire fighter and line officer with the Middletown Township Fire Department/EMS, as an instructor at the Middletown Township Fire Academy and with the College Park Volunteer Fire Department.
Mr. Izzo received his Bachelor of Science degree in Fire Protection Engineering from the University of Maryland at College Park.