Whether developing the self-assessment manual for accreditation or documenting competencies for credentialing, effective communication and writing, more specifically, technical writing, plays an essential role. Technical writing may come naturally to some, while others may be challenged by it. This is a skill, however, that can be learned and improved upon, no matter what your expertise may be.
The Center for Public Safety Excellence partnered with the George Mason University English Department to develop an online technical writing certificate, The Advanced Technical Writing Program. The certificate was built upon an existing curriculum at George Mason and, through this partnership, was customized for the needs of the fire and emergency service. The certificate currently includes seven courses.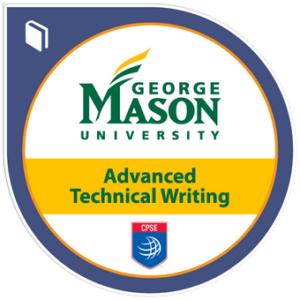 Developing the Program
"We worked alongside Preet Bassi (CPSE CEO) and Ernst Piercy (CPSE Senior Technical Advisor), who served as content evaluators and coordinators of the program," said Heidi Lawrence, an associate professor of English at George Mason University and director of the master's program in Professional and Technical Writing. "This was an exciting opportunity to collaborate with real-world communicators and to help them learn and improve skills that will have an immediate impact."
"The goal (of the existing George Mason program) is to prepare students to be workplace communicators, to understand their audiences and situations and produce documents that will have broad impact," continued Lawrence. To develop the modules for CPSE, "We started by developing an understanding of CPSE accreditation process to really understand the goals and objectives and what the accreditation process is like and what concerns there were in terms of writing support. When we looked at the core principles of writing (for accreditation) we found a lot of matches."
Ernst Piercy, (CFO-2003) was closely involved in the development of the program. He is a Senior Technical Advisor for the CPSE Technical Advisory Program (TAP) and a retired fire chief with more than 35 years in the fire service, most recently serving as the Regional Fire Chief for Navy Region Southwest in San Diego, California.  He has extensive experience in the needs for effective writing and communications in an organization, having served as the accreditation manager in the Air Force Academy Fire Department's successful bid for international fire service accreditation in March 2001, and led his team through successful re-accreditation bids in 2006 and 2011.
"The idea was that fire service does a great job training our fire fighters early in their careers," said Piercy, "but, by and large, could do a better job of preparing our up-and-coming fire officers for technical writing, report preparation, developing presentations and the other skills they would need in their careers. This program is designed to fill that gap, and supports not only accreditation and credentialing, but also the activities and skills needed by fire service leaders at all levels with the organization."
The Adult Learner
It was also important to consider the needs of the adult learner who is working full-time and has a myriad of competing pressures on their time.
"We kept the courses short, a maximum of six hours a week with a lot of flexibility," said Lawrence. The course is being run asynchronously, which means that the students can login at any time during the week and complete it at their own pace. However, they do need to complete each module within the week.
Recognizing that many of the course's students may not be used to taking courses in a virtual environment, CPSE Corner asked Dr. Lawrence what suggestions she might have that could be a recipe for success. She sympathized with the students because, she admits, she also signs up for online courses with the best of intentions and, well, life happens.
"We do the courses in small, digestible chunks that they can download, review and repeat, if necessary," said Lawrence. Since people have different learning styles, the program uses a wide range of information types. "For every module there is a video and a worksheet with similar information." Fortunately, much of the material was already designed for graduate (older) students so they already had some of the constraints that the CPSE audience would have.
Lawrence went on to explain, "Students who do best are those that set a schedule to work on and complete the module. I recommend they check in early in the week, have a timeline to complete the module, and not wait until the last minute on Friday."
While the modules can be done asynchronously, meaning that not everyone is online at the same time, the program does try to do some community building. In addition, Lawrence and the other instructors have regular office hours via Zoom and provide any assistance that people may need to be successful. "We are actively involved and try to be present as instructors, not just a bot checking a box making sure assignments are in on time, we try to be real people," said Lawrence.
The reaction has been extremely positive, and there were several lessons-learned from the first round of courses that resulted in changes to the second offering. "We are lowering the class size to keep them smaller and more interactive," explained Lawrence, "we're hoping the students get to know each other and create a community." Lawrence felt that one of the biggest testimonials comes from the fact that everyone that signed up has completed their courses and that everyone stayed engaged on the course message board, asking questions.
Structure of the Program
About a week before a course starts, the student receives an email inviting them to review the introductory material. The core of the program is lecture material, a handout that follows the lectures, and an assignment that allows the student to practice what was taught in the module. The course opens on a Sunday evening, and all assignments must be completed and submitted by midnight, Friday. Lawrence estimates that it would take the average student from four to six hours to complete all the assignments, and that some do it in one sitting.
Not all the course work is writing. In one, Oral Presentations, the student must put together a brief presentation, a script, and visuals. "The exercise is about designing good visuals and having a plan to go along with," said Lawrence.
Who would benefit from going through this program?
"This course is fantastic for junior to mid-level fire service leaders, and it would serve as a great refresher for senior leaders as well," said Piercy. "The ability to speak and write using strong language skills is so important to their current and future success." And in looking back on his extensive career, Piercy had some observations on how it could have helped him along his way.
"A course like this early in my career would have had a tremendous impact. Too often, I was left to figure things out on my own, leading to frustration and poor performance. Over time, as I gained knowledge, education, and experience, I encouraged junior members of the organization to participate in similar activities, albeit not as structured as these. I had once published an article "Completed Staff Work" where the focus was on the need for fire officers to turn in work to the fire chief 'ready to sign.' This course would have gone a long way to prepare folks for that task."
And many more.
You can find more information about the CPSE/George Mason University project at CPSE.