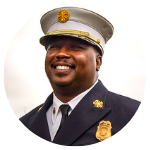 The CPSE Board of Directors welcomes its newest member, Chief Reginald Freeman (CFO-2008). Freeman is the fire chief for the Oakland (California) Fire Department. Prior to joining Oakland he served as the fire chief/emergency management director for Hartford, Connecticut, an accredited agency through the Commission on Fire Accreditation International (CFAI). His earlier experience included serving as fire chief for Lockheed Martin Aeronautics in Fort Worth, Texas and serving in Iraq as a civilian fire chief for the U.S. Department of Defense from 2004 to 2008, providing all-hazards fire and emergency services to forward and continuing operating bases throughout Iraq.
Chief Freeman holds a bachelor's degree in Leadership from Bellevue University in Bellevue, Nebraska, a master's degree in Executive Fire Service Leadership from Grand Canyon University in Phoenix, Arizona and is currently a doctoral candidate studying Organizational Leadership with an emphasis in Organizational Development.
He earned his Chief Fire Officer designation in 2008.