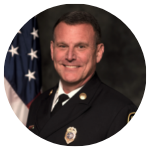 The CPSE Board of Directors welcomes its newest member, Chief Terry Ford (CFO-2002). Ford is the chief of the Fire and Emergency Services Division at Tinker Air Force Base in Oklahoma, a CFAI accredited agency. His fire service career began in 1982 and has included assignments at U.S. Air Force bases around the globe as well as Superintendent of the DoD Fire Academy. He was named chief at Tinker Air Force Base in 2005.
Chief Ford holds a bachelor's degree in Fire Science Management and a master's degree in Human Resource Development. In addition to his service on the CPSE Board, Chief Ford served on the Commission on Fire Accreditation International from 2019 to 2021.
Chief Ford is a graduate of the National Fire Academy Executive Fire Office Program and earned his designation as Chief Fire Officer in 2002.