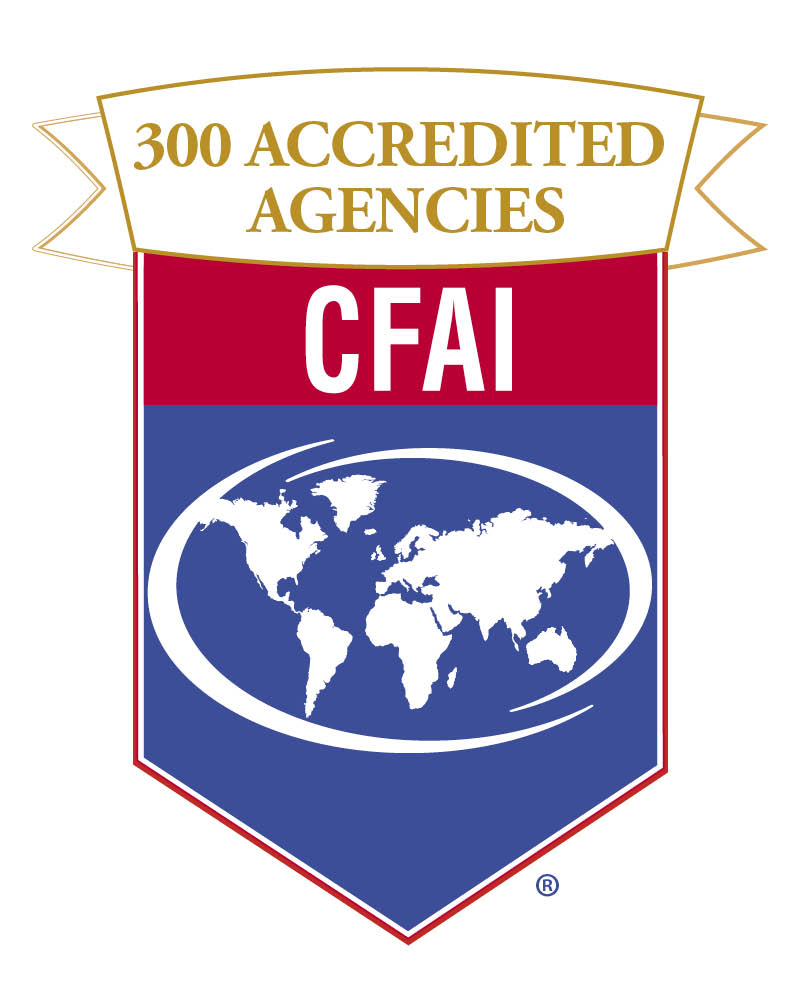 In March 2022, the Commission on Fire Accreditation International (CFAI) awarded its 300th accreditation. With a current total of 301, this is the highest ever number of accredited agencies. Formed in 1996 to award accreditation to fire and emergency services agencies worldwide, today CFAI, along with the Commission on Professional Credentialing, operate within the Center for Public Safety Excellence (CPSE).
"This tremendous achievement is the direct result of the dedication of CFAI accredited agencies, led by outstanding leaders in the fire and emergency services," commented CPSE Board President Jeff Pomeranz, City Manager Cedar Rapids, Iowa. "We live in safer communities because of the unprecedented commitment to continuous improvement by accredited agencies and their members every single day." 
From its inception, CPSE has valued having a diversity of involvement from organizations, including the International Association of Fire Chiefs, the International City/County Management Association, the International Association of Fire Fighters, the National Fire Protection Association, the Insurance Services Office, and the Department of Defense on our board and commissions.
The mission of CPSE to lead the fire and emergency services to excellence through the continuous quality improvement process of accreditation, credentialing, and education is carried out in large part by a legion of dedicated volunteers. Hundreds of individuals over the last 25 years have contributed to this milestone achievement by developing the CFAI accreditation model and serving as CFAI commissioners, team leaders, and peer assessors.
"Reaching the milestone of 301 accredited agencies is an incredible achievement. The milestone is not reached without the countless hours put in by the volunteer team leaders and peer assessors" shared CFAI Chair Steve Dirksen, CFO, Fire Chief of the Fargo (ND) Fire Department. "Our volunteers are the heart and soul of what makes the model work. I want to extend my sincerest thanks to all who volunteer to ensure continuous quality improvement for those agencies who embrace the CFAI model."
Agency accreditation is a process by which departments undergo a voluntary and thorough self-assessment focused on identifying strengths and areas for improvement. The accreditation process provides a framework for determining community needs and demonstrating that they are being met.  CFAI awards accredited status to agencies following a peer review of agency documents and a site visit. In March 2022, CFAI met in Orlando, FL for two days of accreditation hearings. During this round of hearings, seven new agencies and 13 renewing agencies were accredited.
"Agencies that engage in continuous improvement efforts like seeking accreditation are to be commended for approaching their work in a human-centered and progressive manner", highlighted CPSE Chief Executive Officer Preet Bassi. "Agencies that remain accredited and implement prevailing, leading, and emerging practices enjoy a positive culture shift in their organizations."
Beginning with 13 alpha and beta test agencies in the late 1990s, CPSE has experienced significant growth in the number of CFAI accredited agencies in recent years. CFAI accredited agencies are city, county, and district departments as well as Department of Defense and industrial installations. Some are smaller agencies, protecting as few as 1000 residents, and others are larger, protecting populations of nearly 3 million. They can be found in the United States, Canada, Germany, Greece, Italy, Japan, Qatar, Saudi Arabia, Spain, and the United Kingdom.
"None of these agencies are different from any other fire department in the world today," commented CFAI Program Director Karl Ristow, CFO, "but all of them have unique risks that impact their communities differently and determine how they will respond"  
In August 2022, CFAI will hold another round of hearings in Denver, CO. During these hearings, it is anticipated that some of those beta agencies will receive accreditation for a sixth time, having been accredited for 25 years.
As the global organization dedicated to collaboratively improving health, wellness, and safety outcomes in all communities, CPSE is honored to have worked with so many departments to improve their service to their community.