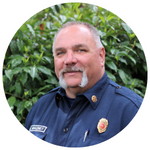 The CPSE appoints Deputy Chief/Fire Marshal Thomas Maloney, Marysville Fire District, Washington, to the Commission on Professional Credentialing as the Fire Prevention representative.
Tom Maloney is serving as Deputy Fire Chief/Fire Marshal for the Marysville Fire District, a Regional Fire Authority in Washington State, a position which he has held since October 2008. He began his fire service career as a volunteer in upstate New York in 1984 and has served as a Fire Chief in both New York and Montana.
Maloney is a graduate of the Executive Fire Officer Program at the National Fire Academy. He holds a master's degree in Business Administration with an emphasis in Public Administration from the University of Phoenix, as well as certifications from the International Code Council and National Fire Protection Association.
He earned his Chief Fire Officer designation in 2016 and Fire Marshal in 2019.