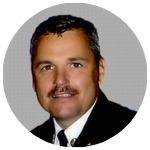 The CPSE appoints Fire Chief Otto Huber, CFO, Loveland-Symmes Fire Department, Ohio, to the Commission on Fire Accreditation International representing accredited agencies serving populations between 25,000 and 99,999.
Otto Huber is the fire chief of the Loveland-Symmes Ohio Fire Department, a CFAI accredited agency and ISO Class 1. Chief Huber has served the department since 1976 and has spent the last 20 years as the fire chief.
Chief Huber is a graduate of the Ohio Fire Executive program as well as holds numerous certificate and certifications from local and national institutions.
Chief Huber earned the designation as Chief Fire Officer in 2014 and has received national, state, and local awards for leadership including Ohio Fire Officer of the year.