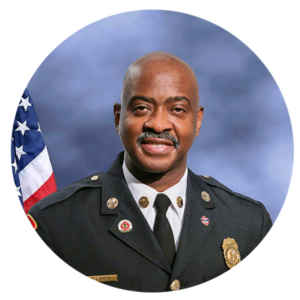 The CPSE appoints Fire Chief Hezedean Smith, to the Commission on Professional Credentialing as the representative for Career Departments.
Hezedean Smith is the chief of the Charlottesville Fire Department in Virginia, an accredited agency through the Commission on Fire Accreditation International (CFAI). Chief Smith has over three decades of experience in the emergency services profession, having started his career in 1998. He recently retired as a chief officer after serving almost 25 years in the Orlando Fire Department.
Chief Smith has a Doctor of Management degree from the University of Phoenix, a master's degree, and two associate degrees (Fire Science and EMS). He is a Certified Public Manager, Healthcare Simulation Educator, Executive Fire Officer (University of Florida), a Fellow in the American College of Paramedic Executives, and Certified Occupational Safety Specialist. Dr. Smith is a Nationally Registry Paramedic, serving on the National EMS Management Association and the Black Chief Officers Committee board. He is an adjunct professor at Embry-Riddle Aeronautical University and Columbia Southern University. 
Chief Smith earned the designations of Chief Fire Officer in 2015 and Chief EMS Officer in 2018 and is a Member of the Institution of Fire Engineers-USA and the Caribbean Branch.