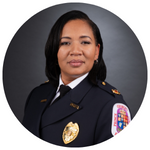 Tiffany Green is the chief of the Prince George's County Fire/Emergency Medical Services (EMS) Department, located in Largo, Maryland,  one of the largest combination fire departments in the nation. She has served the Department for over 27 years and has been committed to improving and modernizing the fire service regionally, nationally, and globally.  She started her journey as a volunteer firefighter and later became a career firefighter and paramedic. During her tenure with the department, she has served in numerous leadership roles to include Chief Deputy, Director of the Fire/EMS Training and Leadership Academy, Executive Assistant to the Public Safety Director, Chief of Staff for the Director of Homeland Security, Battalion Chief, and Station Commander.
Chief Green holds a bachelor's degree in Public Safety and a master's degree in Emergency and Disaster Management.
Chief Green earned her Chief Fire Officer designation in 2021.