In 2022, the Center for Public Safety Excellence (CPSE) entered the last year of our five-year office lease requiring an important decision to be made about the future of work at CPSE.
For the preceding two years, driven primarily by the COVID pandemic, CPSE had shifted to remote work two to three days per week. During that same time, as CPSE recruited for openings on staff, a competitive employment market and the high cost of living in the Washington DC metro area led us to permitting some roles to be fully remote.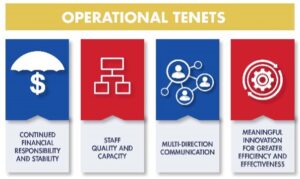 Two of the operational tenets identified during our 2021-2023 strategic plan,Continued Financial Responsibility and Stability and Meaningful Innovation for Greater Efficiency and Effectivenesswere at play as we analyzed our options.
I, along with CPSE's Chief Operating Officer Debbie Sobotka, worked to determine the optimal solution for CPSE's office space once our lease expires in May 2023 and to identify a future course of action. Literature review on remote versus hybrid workplaces and discussions with other fire and emergency service organizations that had encountered similar situations led us to decide that CPSE would be a Remote-First Workplace.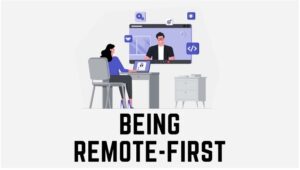 But what does being "Remote-First" actually mean? For CPSE, it meant not renewing our existing office lease, permitting all staff members to work from home full time, while retaining a small footprint in a co-working space.
Early, we decided that the shift to Remote-First would not impact our in-person field activities (CFAI site visits, CPSE University workshops, TAP facilitation or the CPSE Excellence Conference and Summer Symposium). Furthermore, the shift would also not impact our joining the CPSE community in-person at consortium meetings and conferences throughout North America. 
We engaged a realtor to guide us on finding the best co-working solution for CPSE. We ended up renting two small offices in a Spaces building in Reston, Virginia, to permit those employees that wished to work from an office to do so and to have a space to conduct those tasks that remain hands on.
Having made a space decision, we understood it was equally important to understand how this change would impact the CPSE team and a stakeholder-centered focus would ultimately guide what being Remote-First meant at CPSE. Information gathering meetings were held with CPSE staff to determine their home office needs and to identify any task digitization challenges. Beyond mere program task completion, we asked our colleagues for their feedback on how CPSE could prioritize connection, communication, and collaboration in a Remote-First environment. While most tasks could be conducted remotely, the ability to come into an office, when needed, to print certificates, ship books and decals, or meet in person was necessary.
From these discussions, a comprehensive plan with over 50 subtasks was developed. Having shifted to Microsoft Office 365 a few years back, the technological infrastructure would only need to be modified, not overhauled, for us to work seamlessly remotely. Implementing Teams Voice in March 2023 was a big step forward. Sound risk management would see us expand our insurance coverage to address the variability in remote work. Additional tasks varied in length and complexity from disposing of obsolete letterhead to digitizing CPSE's financial processes. The human element of this monumental change was always in the forefront and developing remote collaboration policies that would ensure we remain responsive to each other as well as the larger CPSE community was essential.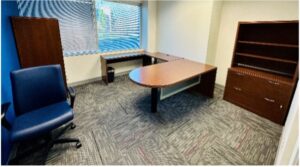 The largest challenge we faced was what to do with the gently used office and conference room furniture we had acquired over the years. The market for reselling corporate furniture post-COVID is non-existent as so many companies were shifting to hybrid or remote work. A great suggestion by Karl Ristow, the former CFAI Program Director, was to donate the furniture to local volunteer/combination fire departments and we were successfully able to coordinate with three local departments to collect 90 percent of our furniture. A true win-win situation.
We began our lease at the co-working location on April 1st, will move on May 4th, and have our final walkthrough on May 8th. After taking a few weeks to catch up on our non-office move related tasks, we will begin phase 2 of CPSE becoming a Remote-First workplace. While that plan is not yet fully fleshed out, it will entail us reviewing any remaining hands-on operations and determining how to either digitize or outsource them.
CPSE's commitment to our mission, to lead the fire and emergency service to excellence, to our values, of progressive leadership, outcomes, and continuous improvement, and to our vision, of being the global organization dedicated to collaboratively improving health, wellness, and safety outcomes in all communities, is unwavering whether we are working from an office in Reston, Virginia, from our homes in four different states, or on the road.
Preet Bassi has been CPSE's chief executive officer since 2014 and oversees work across all program areas with a focus on the organization's strategic direction as set by the Board of Directors. Prior to CPSE, she was the Director of Finance and Administration for the International Accreditation Service and managed their Fire and Life Safety and Building Department Accreditation Programs. She has experience at both the local and state government levels, having worked for the City of Anaheim, California, and the California State Assembly.
Ms. Bassi holds a master's degree in Public Administration from the University of Southern California, and a bachelor's degree in Economics and Political Science from the University of California Davis. She is credentialed as a Certified Association Executive through the American Society of Association Executives. She was part of the inaugural cohort for the University of Pennsylvania's Executive Program in Social Innovation Design and has completed Cornell's Diversity and Inclusion eCertificate Program.