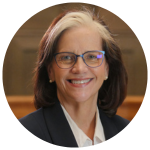 The CPSE appoints Cathy Ball, City Manager for Johnson City, Tennessee, to the Commission on Fire Accreditation International representing city manager overseeing a CFAI accredited agency.
Cathy Ball has served as city manager for Johnson City, Tennessee since December 2021. In this capacity she oversees a CFAI accredited agency. Prior to returning home to East Tennessee, she spent 24 years with the City of Asheville, NC as an assistant city manager, interim city manager, Public Works director, and a licensed professional engineer with an emphasis on civil engineering. Her career in local government began with the City of Greenville, SC, in 1988.
A native of Erwin, TN, Cathy is a graduate of Tennessee Technological University and earned her master's degree in public administration from Western Carolina University.