The Center for Public Safety Excellence® has partnered with George Mason University's English Department to develop an advanced technical writing program specifically for the fire and emergency service. This seven-course program addresses both foundations of technical writing and technical writing in organizations.
Offered entirely online, fire service professionals can register for weeklong courses in Writing Fundamentals, Plain Language, Understanding Audiences, Oral Presentation, Fundamentals of Grammar and Editing, Principles of Proposal Writing, and Communication in Organizations through Mason's Continuing and Professional Education department. Courses are structured for participants to attend at their own pace.
Registration is now open for the second session (April 5 – May 21, 2021)
To earn the Advanced Technical Writing Certificate and Digital Badge all seven courses must be completed. Students may complete courses one to three and earn a Foundations of Technical Writing Digital Badge and/or complete courses four to seven and earn a Technical Writing in Organizations Badge.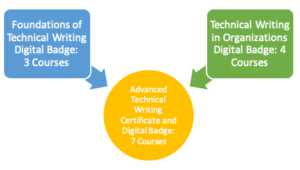 Description: Starting with the basics, including rules of commas and editing for conciseness, clarity, and cohesion, this course will provide a review of sentence and document structure for writers at all levels.
Content: Use of commas (introductory clauses, subordinate clauses, series, coordinating adjectives, geographic location, dates, etc.); editing for clarity (active voice, transitional words, parallel construction, and action verbs); editing for organization (paragraphs, use of bullets, sentence length); and basic document design (alignment, contrast, and repetition). 
Use Cases:  From writing requests for information to fire incident reports, administrative policies and standard operating guidelines, this course will prompt the learner to remember the fundamentals of the written word.
Audience:  All levels of a contemporary fire department, from fire fighter through chief fire officers.
Description: This course builds from writing fundamentals to help the learner use plain language concepts, including short sentences and active voice, and to avoid common issues, including using too much jargon, and use of abstract words in the development of documents and technical reports.  Plain language supports clarity in documents designed for non-expert audiences.
Content: Plain language principles including use of shorter sentences, active voice, and strong verbs; revising for abstract words, excessive jargon, and unnecessary details; and revising for document layout including effective use of typeface, white space, line and paragraph spacing, and visual cues.
Use Cases:  Correspondence with internal and external stakeholders including training classes, fire incident reports, administrative policies, social media, and community risk assessment – standards of cover. The author of responses to the self-assessment process will also benefit from this course.
Audience: Company officers through chief fire officers.
Description: Learners will review the basic elements of the rhetorical situation, and they will practice analyzing an audience to tailor a message that meets the expectations of that particular audience.
Content: Definition of key terms, including exigence, purpose, and context; the elements of audience analysis; considering primary and secondary audiences before writing; and considering tone and language in written communication.
Use Cases:  Presentations to a wide variety of audiences, from internal training sessions, public fire education, business owners, and the authority having jurisdiction. Includes writing to specific audiences as well.
Audience:  All levels of a contemporary fire department, from fire fighter through chief fire officers.
Description: An advanced course that builds upon "Understanding Audiences" to help the learner prepare for clear, concise presentations with and without visual aids.
Content: Prepare and organize presentations to make effective and persuasive arguments; review of audience analysis, introduction to problem-reason-solution approach to making effective oral arguments; considerations of the best claims and sources of evidence to make an effective argument; and planning for the best delivery method, including use of visual aids, for different types of oral presentations.
Use Cases: Internal training classes, budget presentations, and community risk assessment – standards of cover and/or strategic plan demonstration to the governing body.
Audience:  All levels of a contemporary fire department, from fire fighter through chief fire officers.
Description: An advanced course to assist he learner in the use of appropriate grammar and word choice. Learners will practice advanced tricks of the trade used by editors.
Content: Review use of commas, punctuation, and editing for meaning; use of "only," affect and effect, which and that; use of consistency and repetition in sentence and paragraph structure.
Use Cases: Development and presentation of technical writing, including self-assessment documents, community risk assessment – standards of cover, policies and procedures, and written correspondence.
Audience:  All levels of a contemporary fire department, from fire fighter through chief fire officers.
Description: Advanced concepts related to planning and structuring a proposal, conducting data mining, and designing budget requests, including the use of alternative funding sources.
Content: Basic proposal planning and research; basic proposal formatting; adapting budget requests to the proposal; and analyzing the RFP to tailor the proposal to the requirements.
Use Cases: Development of requests for proposals, grants, and other opportunities to obtain approval and/or funding.
Audience:  Company officers through chief fire officers.  
Description: The course is designed to help develop and assist with document and information management within organizations.
Content: Review types of documents used within organizations and how those documents work with each other to address stakeholders; adapt communicative practices for external and internal audiences; and understand how information is shared within organizations.
Use Cases: Development of communications methods throughout the fire service organization, including internal and external stakeholders. Preparing for performance reviews, staff meeting and informal fire station discussions.
Audience:  Company officers through chief fire officers.
The George Mason University Continuing & Professional Education website lists the course titles, dates, and costs.
All courses run for one week each and are delivered online and self-guided.
What are people saying about the Technical Writing Program?
Overall, I felt the courses were helpful, and they are good refresher courses for people that have to do extensive writing.  I think they are useful for people that are new or experienced writers.   Personally, I thought the Plain Language course was extremely helpful.  The material provided valuable content for me to use in our technical reports.  The courses and assignments were easy to follow and understand.
Thomas O'Toole
International Association of Firefighters
Dept. Fire and EMS Operations/GIS
---
As the Municipal Training Officer for my organization, I am responsible for creating lesson plans, memorandums and writing documents every day. I recently transitioned to this position after working for 13 years "on the line", responding to emergencies and conducting mostly hands-on work. The transition to an administrative officer role in my organization is a big leap. Although I am comfortable with writing communications, I have not had much formal training or education since my Associates Degree, which I completed almost 15 years ago.
The courses in Writing Fundamentals, Plain Language and Understanding Audiences have helped me to hone my writing techniques and to better prepare my documents and communications. As a Fire Service Leader, I would recommend this course to other fellow firefighters and officers who are making the transition to administrative roles. Whether you have an extensive formal education or are an administrative novice, these courses will help you improve as a writer.
The process with CPSE/George Mason University has been easy to use, the online platform works well for my schedules and the assignments have been well worth it. I would highly recommend this training series!
Lieutenant Shane Metcalfe
Municipal Training Officer
Ridge Culver Fire District