The Center for Public Safety Excellence (CPSE) is a not-for-profit 501(c) (3) corporation.
CPSE helps high-performing fire departments and emergency services professionals in their efforts to continuously improve. We do that in three main ways:
Fire department accreditation, a process in which departments undergo a thorough self-assessment focused on identifying strengths and areas for improvement.
Credentialing fire and emergency services professionals, instilling the principles of life-long learning and self-accountability and helping them grow and plan for a successful career.
Education programs offering individuals and departments the information they need to expand their knowledge and capabilities, and stay on the forefront of the profession.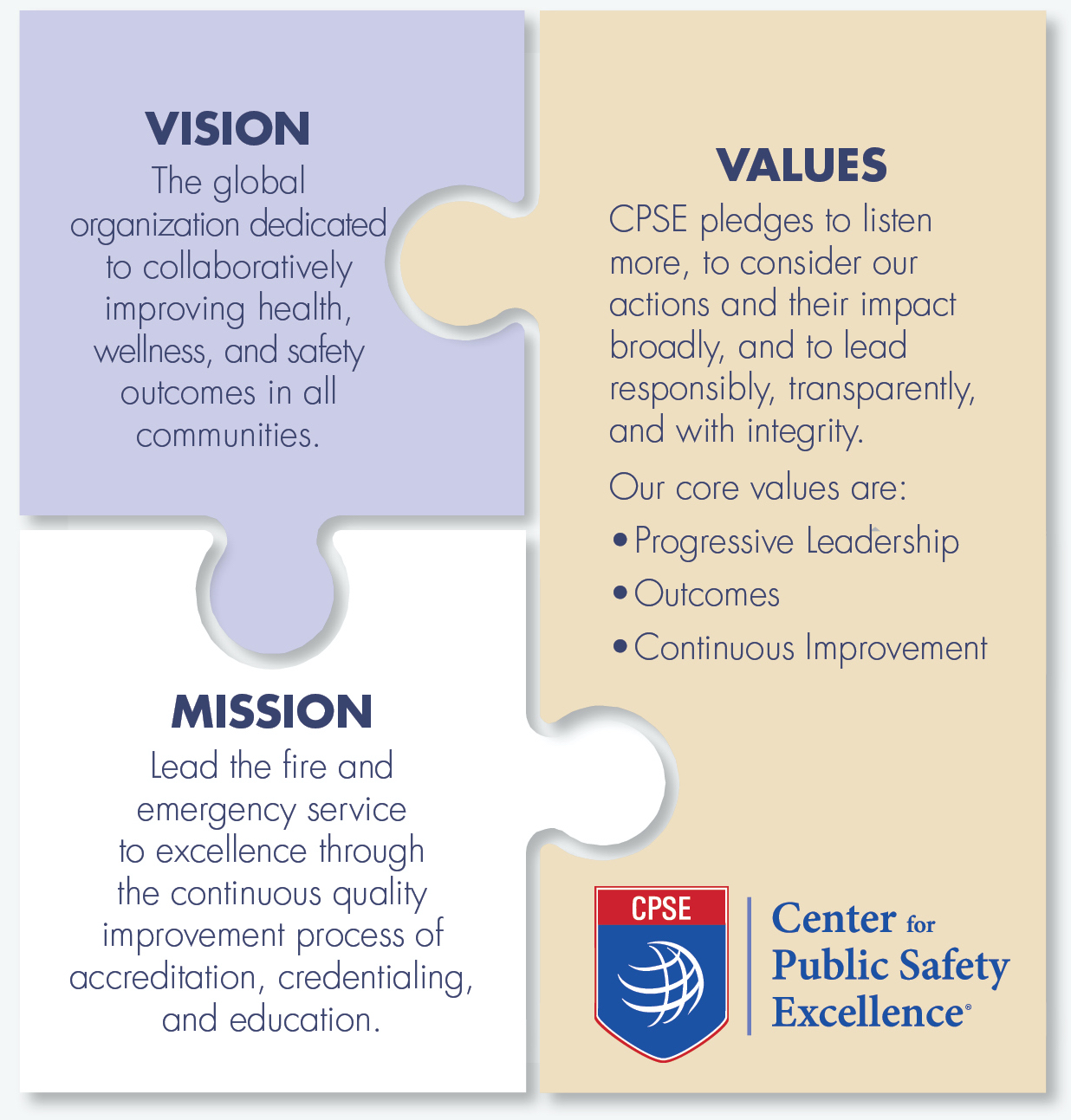 In 1986, the International Association of Fire Chiefs (IAFC) and the International City/County Management Association (ICMA) came together to develop a framework for continuous improvement of the fire and emergency service. By 1996, this led to the formation of the Commission on Fire Accreditation International (CFAI) to award accreditation to fire and emergency service agencies. In 2000, the Commission on Chief Fire Officer Designation was established to credential fire and emergency service officers. In 2006, the corporation's name was changed to the Center for Public Safety Excellence, with CFAI and the, now-titled, Commission on Professional Credentialing became entities under CPSE.
From its inception, CPSE has valued having a diversity of involvement from organizations, including IAFC, ICMA, the International Association of Fire Fighters, the National Fire Protection Association, the Insurance Services Office, and the Department of Defense on our board and commissions.
In February 2021, we unveiled a new Strategic Plan. This nimble two-year plan has six areas of strategic focus and four operational tenets for CPSE to effectively embody its mission and achieve its vision.  This new plan was preceded by a comprehensive five-year plan.