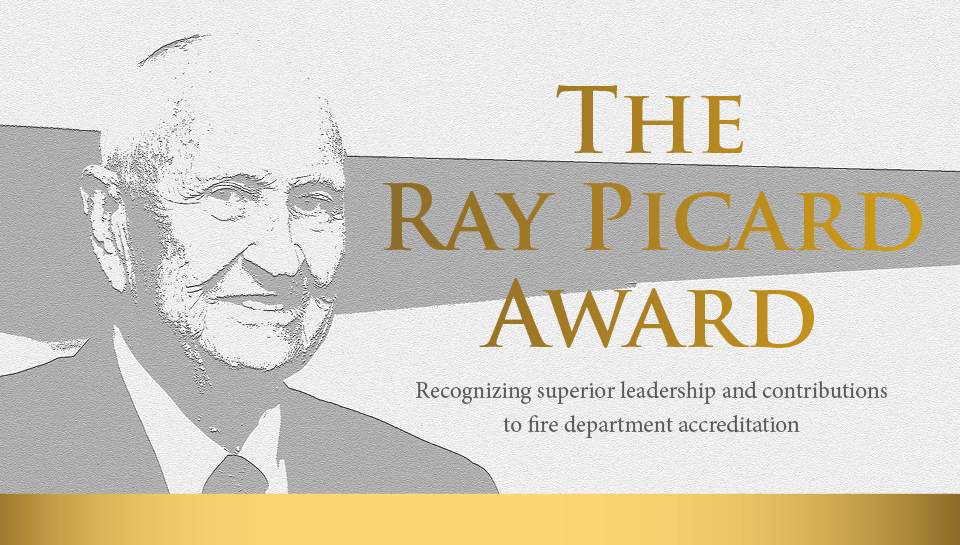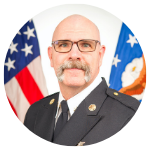 The 2021 Ray Picard Award was presented to Assistant Chief Christian E. Jacobs, CEMSO from the Grissom Air Reserve Base Fire Department, Indiana.
Assistant Chief Jacobs's involvement with the CFAI dates back to his time as assistant accreditation manager for Joint Base Langley-Eustis. During this time, the foundational basis of the CFAI accreditation process was embedded into the culture of the department. Having been an active participant in the process, he saw first-hand the positive outcomes that a culture inundated with continuous quality improvement can achieve. Subsequently, he was tasked with the duties of Accreditation Manager at Joint Base Langley-Eustis where he began transitioning the department ahead to the next edition. However, due to a family emergency, before he could get Joint Base Langley-Eustis to the commission hearing, Chief Jacobs had to relocate to Grissom Air Force Base. Enduring through the adversity, Chief Jacobs's commitment to the CFAI model never faltered. Upon his transfer to Grissom Air Force Base, he established and applied the CFAI model of quality improvement through accreditation. Moreover, he was able to successfully implement the foundational basis of the model and lead Grissom to accreditation status is just 18 months.
Chief Jacobs's commitment to the accreditation process has been demonstrated through the selfless commitment of peer assessment while also consistently advocating the assessment process to his peers. In 2019 he took over the role of administrator of the DoD Accreditation Facebook page. Upon becoming a pillar in the accreditation community within the Department of Defense, Chief Jacobs immediately went to work leading discussion board topics such as SOC/CRA and other relative topics to spark conversation and ultimately create a global culture of continuous improvement through accreditation. In addition to promoting accreditation through digital means, Chief Jacobs regularly contributes to his regional consortium.
Since becoming an accredited agency and a credentialed Fire Officer (FO) and a Chief EMS Officer (CEMSO), Chief Jacobs has become more involved with his regional consortium taking part in the general presentation sessions while simultaneously networking with other accredited and candidate agencies. Fostering these critical relationships through the regional consortium, he is constantly working with his peers in an effort to advocate for the accreditation process.
In 2000, the Commission on Fire Accreditation International (CFAI) established the Ray Picard Award. We designed this annual award to recognize Chief Ray Picard's vision in pioneering quality improvement for the fire and emergency service. Chief Picard was one of the earliest champions of the self-assessment and accreditation process that has led to a culture and paradigm shift within the fire service.
This annual award will be presented to an individual who exemplifies the ability, character, dedication, leadership, and visionary attributes Chief Picard exhibited. The individual should personify Chief Picard's contributions and exceptional leadership to the CFAI and the accreditation of fire service organizations.
Learn about other CPSE awards or contact CPSE if you have any questions.
Previous Recipients
| | |
| --- | --- |
| 2020 – Thomas Thompson, CFO | 2010 – Ken Helgerson |
| 2019 – Mike Hall, FO | 2009 – Mark Puknaitis, CFO |
| 2018 – Brad Brown, FO | 2008 – No Award |
| 2017 – Rob Ugaste, CFO | 2007 – Gary Tokle |
| 2016 – No Award | 2006 – Gary Curmode, CFO |
| 2015 – Brian Dean, CFO | 2005 – Dennis Gage |
| 2014 – Ernst Piercy, CFO | 2004 – Ronny Coleman, CFO |
| 2013 – Cliff Jones, CFO | 2003 – Ray Flowers |
| 2012 – Barry McKinnon | 2002 – Martel Thompson |
| 2011 – Mike Brown | 2001 – Bill Killen, CFO and Randy Bruegman, CFO |