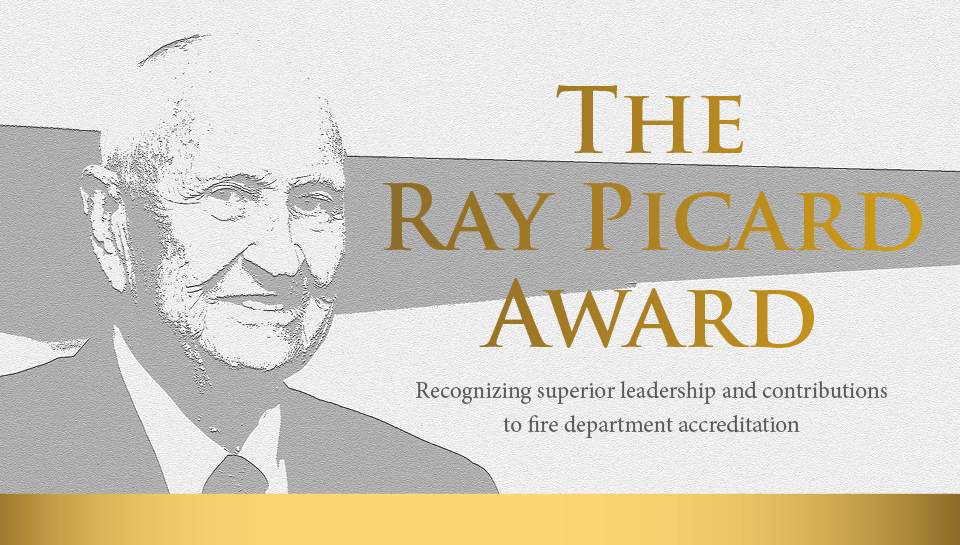 The recipient of the 2022 CPSE Ray Picard Award is Senior Management Analyst Norma Jean Valdez with the Los Alamos County (NM) Fire Department, a CFAI Accredited Agency. Ms. Valdez has been involved with accreditation since the beginning, when Los Alamos was selected as a beta site for the accreditation process. According to one of her colleagues, she has since been continually a part of the department's accreditation, having "vision, dedication, heart, balance, determination, and the desire for continuous improvement to keep LACFD's accreditation quest alive and striving, always being the one to carry that torch towards success." Ms. Valdez serves as a champion of the accreditation process, both in New Mexico and beyond, and exemplifies the spirit of Ray Picard in receiving this award.
Congratulations, Ms. Valdez!
In 2000, the Commission on Fire Accreditation International (CFAI) established the Ray Picard Award. We designed this annual award to recognize Chief Ray Picard's vision in pioneering quality improvement for the fire and emergency service. Chief Picard was one of the earliest champions of the self-assessment and accreditation process that has led to a culture and paradigm shift within the fire service.
This annual award will be presented to an individual who exemplifies the ability, character, dedication, leadership, and visionary attributes Chief Picard exhibited. The individual should personify Chief Picard's contributions and exceptional leadership to the CFAI and the accreditation of fire service organizations.
Learn about other CPSE awards or contact CPSE if you have any questions.
Previous Recipients
| | |
| --- | --- |
| 2021 – Christian Jacobs, CEMSO | 2010 – Ken Helgerson |
| 2020 – Thomas Thompson, CFO | 2009 – Mark Puknaitis, CFO |
| 2019 – Mike Hall, FO | 2008 – No Award |
| 2018 – Brad Brown, FO | 2007 – Gary Tokle |
| 2017 – Rob Ugaste, CFO | 2006 – Gary Curmode, CFO |
| 2016 – No Award | 2005 – Dennis Gage |
| 2015 – Brian Dean, CFO | 2004 – Ronny Coleman, CFO |
| 2014 – Ernst Piercy, CFO | 2003 – Ray Flowers |
| 2013 – Cliff Jones, CFO | 2002 – Martel Thompson |
| 2012 – Barry McKinnon | 2001 – Bill Killen, CFO and Randy Bruegman, CFO |
| 2011 – Mike Brown |   |